Launching Viadukt with a record breaking on sale for Malmö
Viadukt (our new-ish online purchase pathway product) was built and designed with a selection of Research & Development partners chosen from within the cultural sector. The first of these were Malmö Opera and Malmö Live - two well established, large- scale venues in Sweden, owned by the City of Malmö and the state of Skåne.
Working with our partners in Malmö to feed into the Viadukt project from the outset gave us a unique opportunity to dive deep into the user issues surrounding the ticketing experience, interrogate existing integration and administration challenges and understand other internal inefficiencies all at once.
So we want to share a little more detail about how our partnership enabled us to create a user-focused ecommerce experience that can help cultural organisations sell tickets online, while explaining how this also helped us meet Malmö's specific needs and goals by talking about their first on-sale with Viadukt.
To help us do this, we've interviewed Maria Girke-Magnusson (Malmö Live) and Josefin Carlsson (Malmö Opera) to discuss their experiences using Viadukt at their venues and what results it has brought to them and their customers.
It was the best on sale we've ever had, ever.
Setting the scene
Malmö Opera and Malmö Live weren't happy with their previous, custom-built sales flow solution (we'll tell you why in a minute). Following an 8 month procurement process for a replacement, they selected Substrakt and Viadukt - drawn to our focus on making the product as usable and accessible for all customers, right from the outset.
The problems that needed solving
The issues Malmö encountered with their previous purchase path were rooted in the user experience of the product itself. As a result of these problems, customers were constantly going through (and complaining) to the Box Office, putting it under constant strain and creating a cycle of ever growing internal inefficiencies.
User problems
The main issues reported by the Malmö organisations' users were:
Users didn't understand which step of the sales flow they were in
No confirmation that tickets had been added to their basket (meaning people sometimes bought too many tickets and had to request a refund via the box office).
Difficulty with account login and password resetting
Not mobile/tablet responsive (particularly when it came to seat selection) - Malmö Live's customers frequently reported that they couldn't see or understand the seat map
Data revealed that up to 90% of Malmö Live's customers started buying on mobile, but were forced to switch to desktop, call the box office or in the worst case abandon their purchase journey altogether, so this was a major issue to resolve
Poor presentation of the venue layout, meaning customers couldn't make an informed decision about their seats and tickets.
Internal issues
A number of internal issues were caused as a result:
The Box office was put under significant pressure - having to put many hours into project managing fixes that needed to be done, in addition to managing a high volume of customer enquiries
The custom product's tracking capabilities were also limited, which made it tricky for the venues to really understand which parts of the user experience needed improvement. They could see how many users had started and completed the purchase journey, but had no visibility of where users were dropping off throughout the sales flow
The supplier of the custom solution had a lack of experience with Tessitura (the ticketing and CRM system used by both Malmö Live and Malmö Opera), which made development of new features extremely difficult. Josefin Carlsson of Malmö Opera described feature requests and bug fixes as "a constant uphill struggle".
So they clearly needed a new product solution. But the venues weren't just looking for a technical supplier to roll out an 'out of the box' solution, but also a technical partner who could translate their needs into solutions for both users and staff. They needed a dedicated partner with a user-focused approach and a deep knowledge of Tessitura to build, deliver and continue supporting this new solution from scratch.
With Substrakt, we felt we had an opportunity to build a great sales flow from the very beginning, and that was something that we had been wanting to do for a long time, in order to give our customers a really great experience.

Maria Girke-Magnusson (Head of Sales and CRM at Malmö Live)
Substrakt had a significant experience of Tessitura, our main ticketing system, so this was very important to us. It was also a matter of cost, of course – it needed to be a valuable investment.

Josefin Carlsson (Josefin Johansson, Sales Manager at Malmö Opera)
Viadukt's answer
It's worth us briefly outlining some of Viadukt's core features to give a sense of how the product helps resolve some of the issues the Malmö organisations were struggling with. Viadukt:
Is designed mobile-first and optimised for mobile, tablet and desktop devices
Integrates with any CRM and payment tool
Has an easy and intuitive login experience with simple password recovery settings
Has an accessible, fast and mobile-optimised SYOS ('select your own seat' - seat map) tool that allows venues to show the position of doors and stairs within their auditorium
Show the view from different seats
Enables targeted upsells that reduce the number of steps in the user journey (add ons and upsells can be hidden if the basket doesn't match a certain criteria)
Is available to be built in different languages that users can switch between, without compromising the user experience
Is built with serverless technology that effortlessly scales to meet demand as required (it can efficiently deal with high levels of traffic)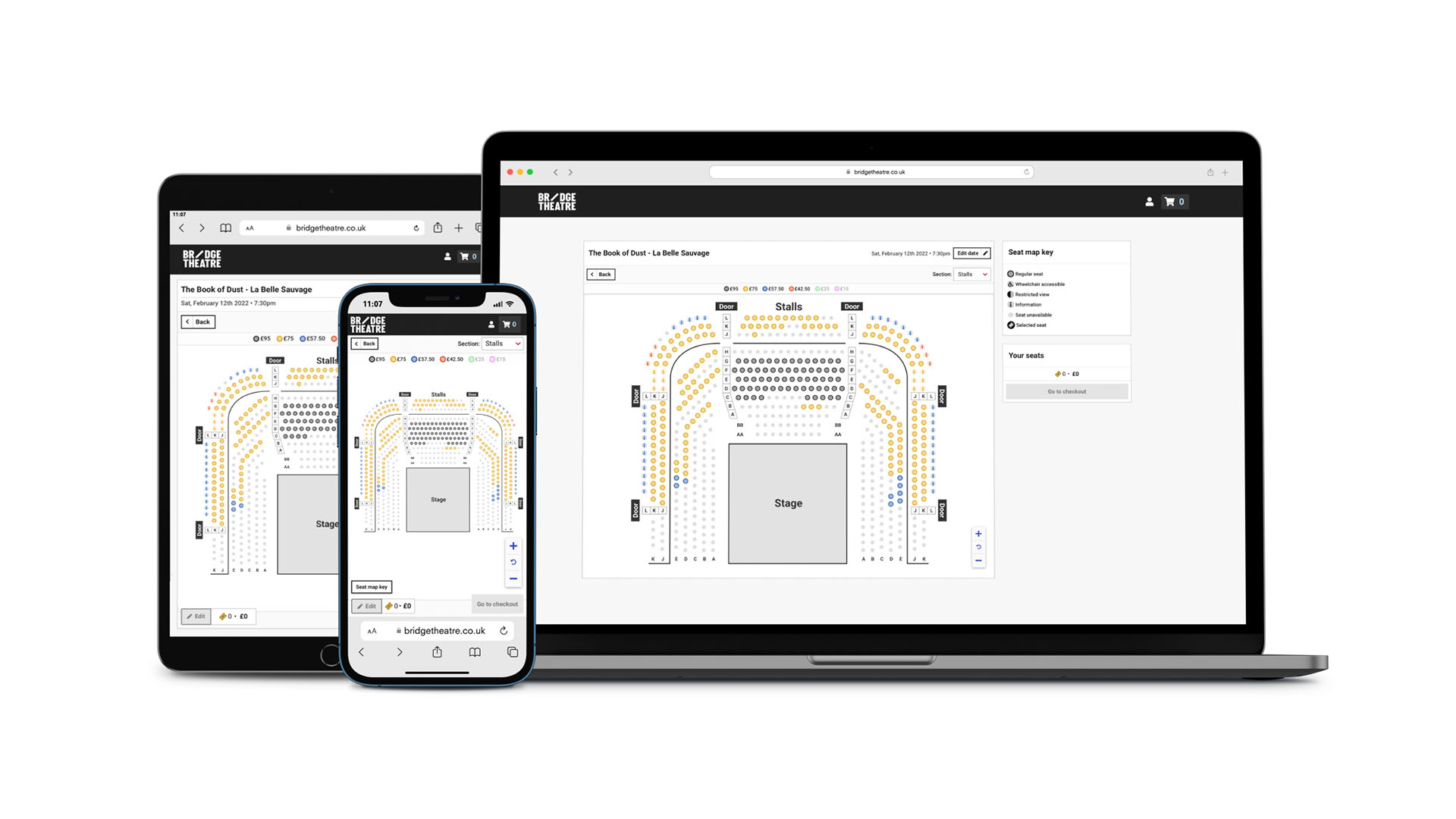 Malmö's first on sale with Viadukt
There's no better test of a purchase path's performance than during a busy on-sale period, when the site is experiencing high levels of traffic. Malmö Opera and Malmö Live's first on sale with Viadukt took place in mid-April 2021, just two weeks after we'd implemented the product. This was also their first on sale since the pandemic hit, meaning Viadukt needed to cater for some pretty specific things, such as socially distanced seating, streamed events that needed to be available to sell in Swedish and English, and redeeming a huge amount of customers' gift vouchers, while also setting up and selling 'subscription products', encouraging users to buy a series of five or more performances.
Gift vouchers
Gift vouchers aren't anything new. But due to Covid-induced show cancellations, both venues had to issue over 2 million Swedish Krona (around £162,000) worth of vouchers between March 2020 and this on sale - significantly more vouchers than would be issued in a 'normal' season.
So we knew Viadukt needed to provide a way for users to quickly and easily redeem these vouchers online. There were a couple of ways we made this happen and we developed:
A feature that lets customers check their account balance (some customers had received so many vouchers throughout the year of cancellations that it was difficult to track their total, putting further strain on the Box Office)
A feature to use and apply their account balance as a way of purchasing tickets, which meant they didn't need to keep track of the different gift vouchers they'd received
Booking streamed events in English
In June 2021, after we'd implemented Viadukt, streamed performances were the only type of events both Malmö Opera and Malmö Live were able to sell and make available to customers.
Given a lot of theatres pivoted to streamed events in the pandemic, selling performances to streamed events was nothing especially new. However, for our Swedish partners, whose purchase path had previously only been available in Swedish, switching to English was key.
Viadukt is built in a way that lets users switch between different languages, while still sticking to our promise of excellent usability and accessibility. The Viadukt implementations at Malmö Opera and Malmö Live are built in English and Swedish, which means that a significant, new number of international audiences are able to access their streamed events remotely.
As Josefin put it: "For one of our performances, in June 2021, we had audiences streaming from 16 different countries and all of them bought tickets via Viadukt.
If this had been one year ago, with the previous sales flow only in Swedish, audiences would not have been able to buy the tickets, or they'd have to call the Box Office or they'd simply drop off. The translation fulfilled the need to cater to our international audiences and continues to sell tickets to them as we continue to do live-streams."
Bubble seating
Pandemic-related restrictions were in place in Sweden at the time of the on-sale, meaning social distancing was required and each performance had an audience capacity limit of 50.
So we developed a custom feature called 'bubble seating'. This meant customers could only book tickets in clusters, for example four tickets in a certain area of the auditorium, while remaining socially distanced from other 'bubbles'. We also made it easy for the Box Office to set this up in Tessitura and the Viadukt content management system.
Whilst this was a feature born out of the specific restrictions of the pandemic, we expect that it can be used in non-pandemic scenarios as well. Such as selling whole-tables for gala events, or selling an entire box in an auditorium.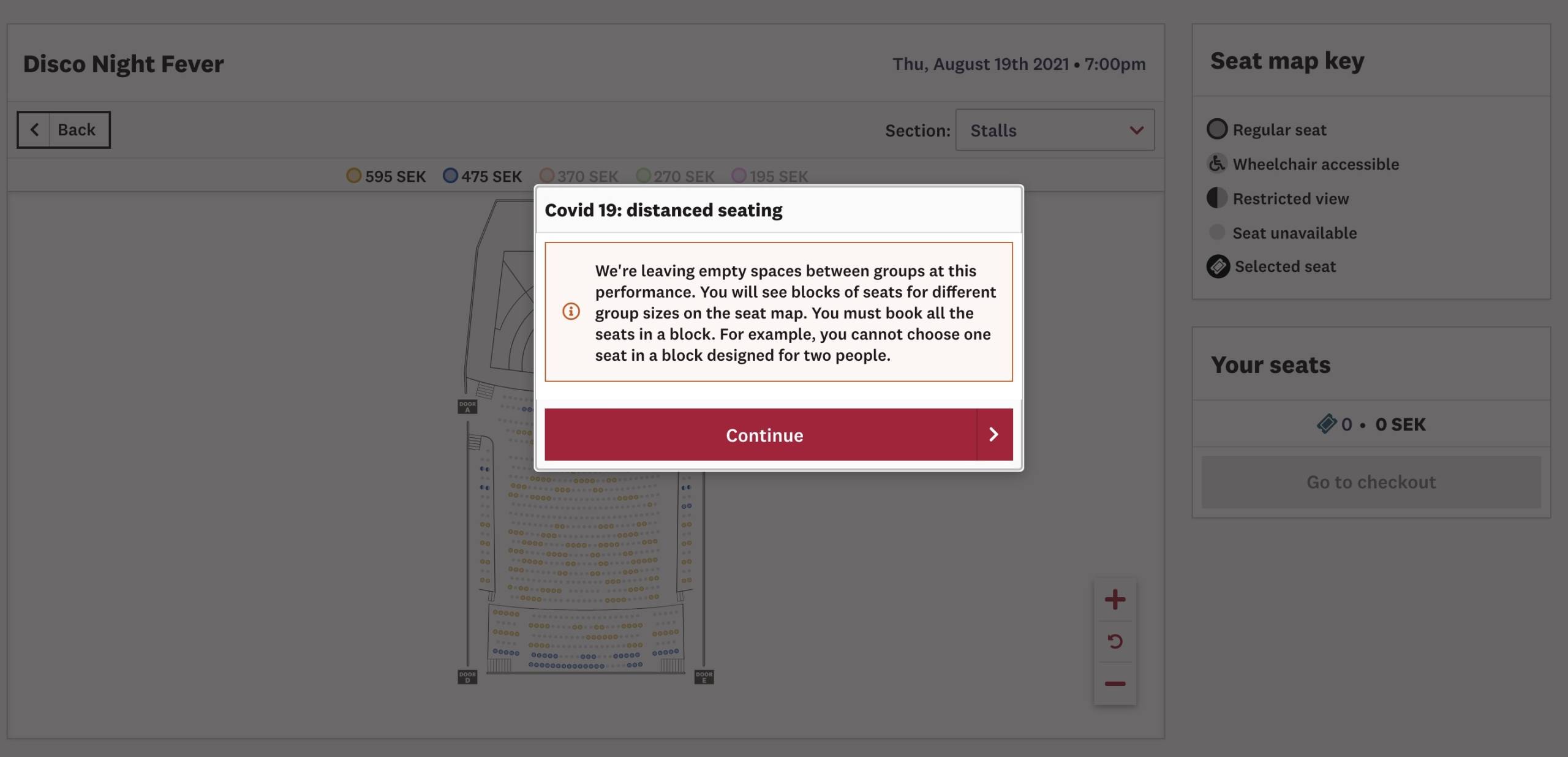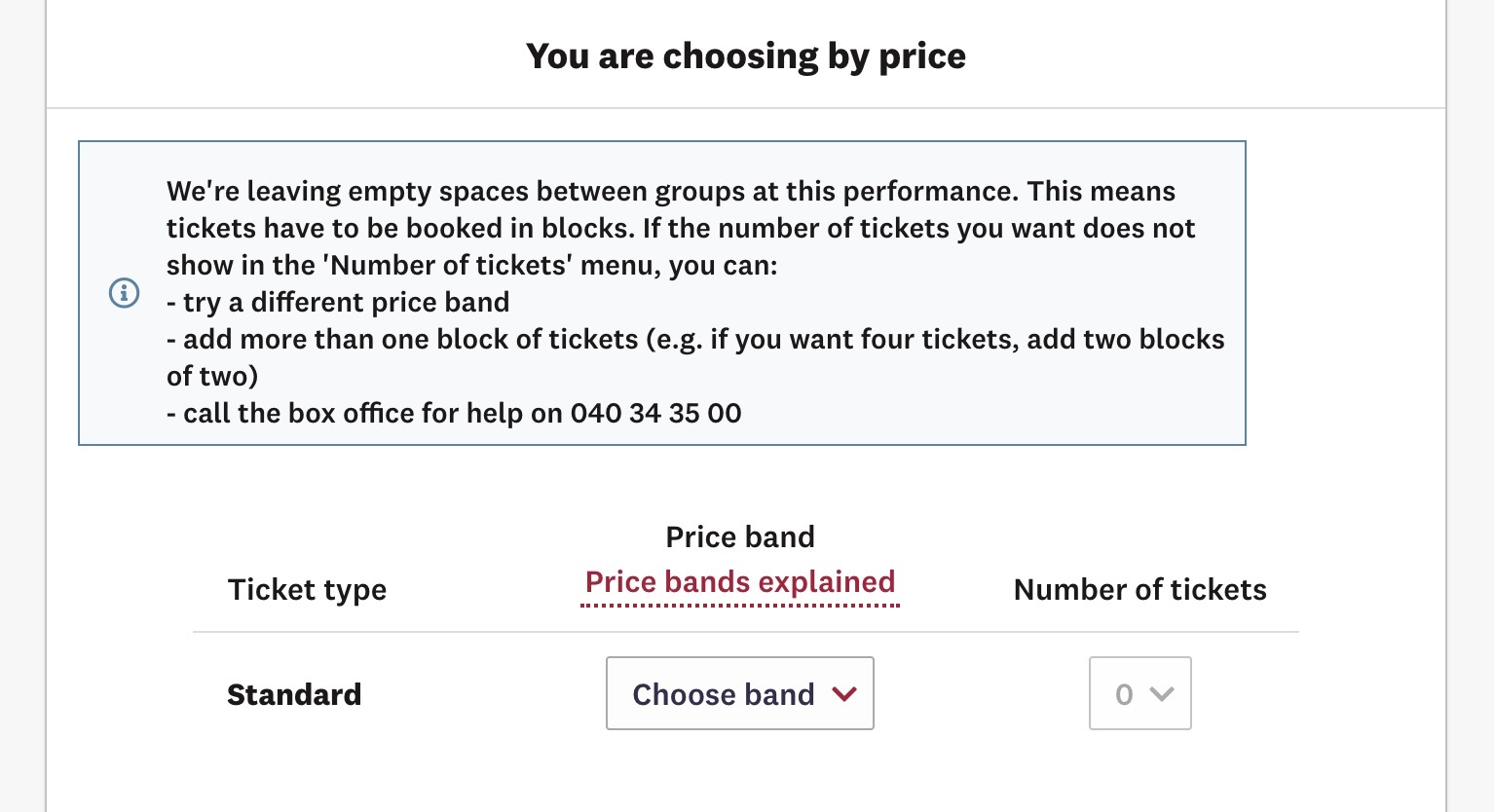 Packages
Subscription products (e.g. member-only performances) bring in essential bulk revenue during on sales, as they are typically made available to book online first. Malmö Live and Malmö Opera don't have a membership scheme, but when it comes to on sales, they launch 'packages' first.
A 'package' means customers can build out five or more discounted performances as a bundle. We built 'fixed' and 'flex' packages for both venues, which means customers can choose a 'fixed seat' for each performance and then add performances to their basket, or choose a different seat per performance as they build out their package. While packages worked fairly well for customers in the previous purchase path, it was cumbersome and frustrating to set up for the Box Office staff. A feature we built in the Viadukt CMS allows Box Office staff to easily mark and make certain events available in packages, and automate the entire process.
The subscription sales and being able to sell packages online have been life- changing for us. We had a very makeshift way of selling packages online in the previous sales flow, which was kind of easy for the customer, but a lot of work for us in the back end, we were doing everything manually. Now it's just so smooth, it's been a very big change for us.

Maria
Results
In short, the on sale was a huge success. As Maria and Josefin univocally put it: "It was the best on sale we've ever had, ever." While overall sales numbers are hard to compare year-on-year due to the limited numbers caused by the pandemic, what's clear is that there's been a dramatic drop in support calls to the Box Office and a huge increase in online sales from audiences with a wide variety of needs, with a significant increase of bookings moving to mobile. And there are some great (ongoing) success stories to share.
Nearly every ticket sold online
85% of all tickets across both venues were sold online during the on sale
Malmö Opera's hit production the Sound of Music sold out in 24 hours, with 93% of tickets sold online.
This production was put on during a four week period of no restrictions. As Josefin told us, "those sales saved us".
A new online booking demographic
97% of tickets for a guest concert of the Berlin Philharmoniker at Malmö Live were sold online to a customer group, in which 75% were aged 70 and over – without customer support calls as previously experienced
This demographic would typically call the box office not only to book tickets, but also to ask for more information (such as venue and accessibility information, or get advice on seats or how to receive and present e-tickets, etc)
A lack of customer calls from this customer group was the ultimate sign of success to know that Viadukt was meeting the needs of typically less digitally literate audience members.
Majority of sales on mobile
90% of audiences were booking tickets on mobile to Malmö Opera's streamed shows (when restrictions were still tight in 2021).
Over 60% of tickets were sold on mobile via Swish (a Swedish, Apple Pay-style mobile payment method), which is a significant increase in mobile users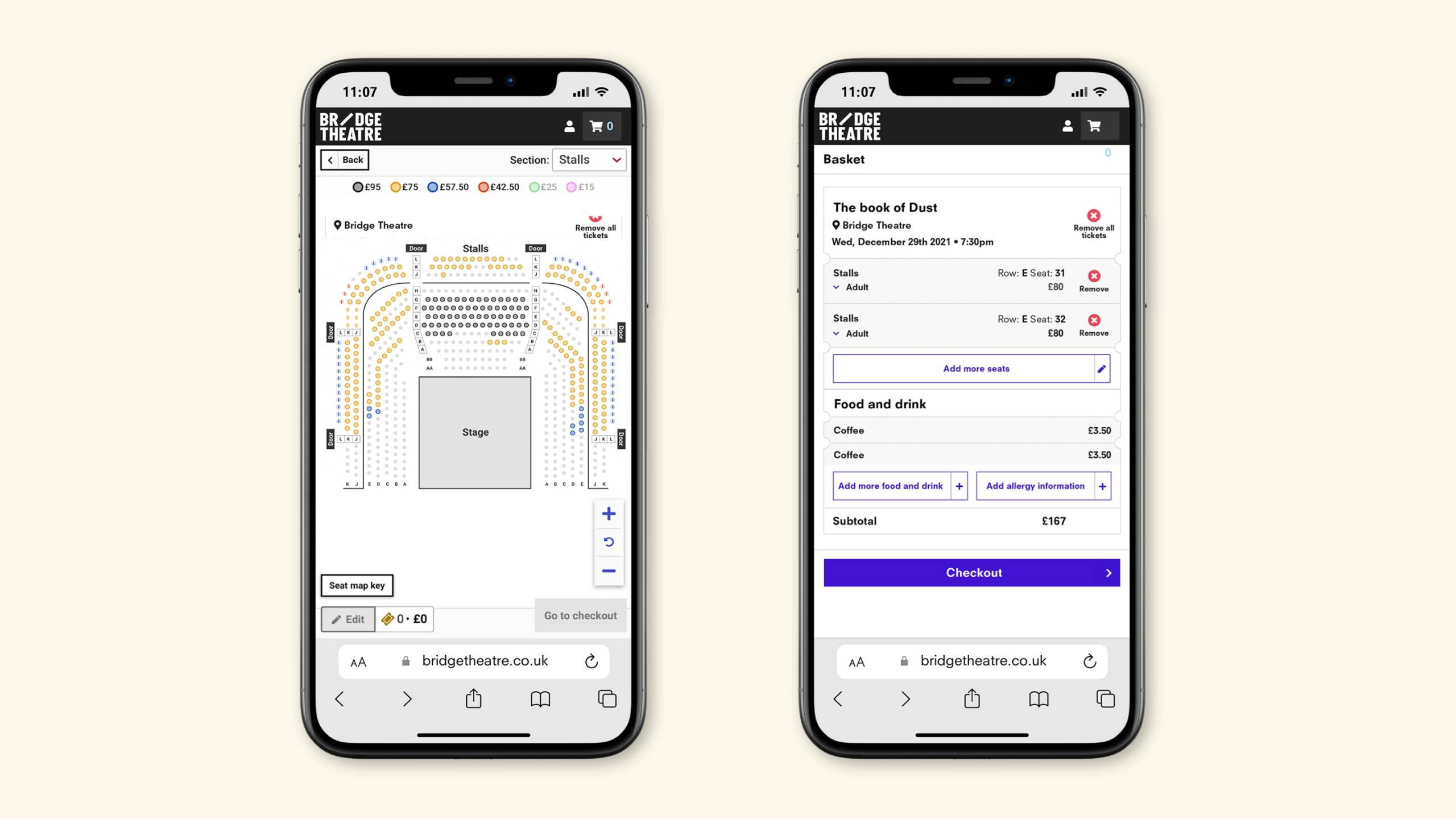 Reaching new international audiences
For streamed performances in June 2021, Malmö Opera had audiences streaming from 16 different countries and all of them bought live-stream tickets through Viadukt.
A business-as-usual Box office
Malmö Opera reports that since all restrictions were lifted in February 2022, the number of customer enquiries are lower than they ever have been, while online sales remain high
Customers calling the box office today very rarely call about problems with the online booking experience. Phone conversations (if any) have moved towards questions about the programme, allowing the Box Office to engage with audiences in a more meaningful way
Box Office staff can now effortlessly and easily set up packages of events through a dedicated Viadukt content management system, and make these easily available to customers on Viadukt
Box Office staff no longer spend time on menial tasks, such as looking up customers' account balance, checking if their order has come through, manually issuing e-tickets, or booking tickets for them via the phone due to other user experience problems
Happy customers
Both venues have received excellent customer feedback on a range of different things:
The food and drink upsells - Viadukt lets users effortlessly pre-order drinks and food within the same purchase when buying tickets, and know exactly which bar and table to go to collect it on the evening of their visit. Feedback to this feature has been so fantastic. As Josefin says: "You went above and beyond what we asked for. You re-designed the food and drink upsell with the user in mind. The feedback from customers was so good, that we decided to roll these improvements across the website and across emails, which has increased the uptake of restaurant bookings and also conversion of customers who now book food and drink at a later date, after purchasing their tickets."
Venue layout and seat map - no complaints have been received from customers struggling to choose their seat. So we know that our SYOS tool is doing its job well - giving users a clear overview of levels, a view from their seat and ultimately empowering users to choose the tickets that suit their needs and preferences.
Customers stopped calling about login issues as they did before. The most frequent customer feedback today is that Viadukt is "straightforward and easy to use."
We have had no complaints about the seat map and the venue layout from customers, as reported by the box office.

Maria
Conclusion
We loved working with the Malmö teams to launch Viadukt, and it's been brilliant to see it working so well for their customers and teams alike. Improving the user experience, reducing box office friction and ultimately increasing ticket sales, all while being easy-to-use for both staff and customers!
We're continuing to work with Malmö on new features that can make the ticket buying experience even better, even more accessible, even quicker and even easier...watch this space! Read more about Viadukt and get in touch with the team if you'd like to learn more, or arrange a demo.