Enhancing TNEW for the Science Museum with 'timed-entry' customisation
Timed-entry ticketing can be a challenge for organisations to get right (particularly for museums and galleries who have multiple slots every day). There are often dozens of time slot options available for customers to choose from when they're looking to attend a particular event on a particular day.
This poses a challenge for both organisations and customers alike:
For organisations, it makes it difficult to manage the flow of walk-in visitors - those who haven't booked ahead of time but would like to visit on the day.
And for their customers:

It can be frustrating to queue for entry only to find they'll need to wait even longer to actually get in (again most often the 'on the day' visitors who haven't booked or are unfamiliar with the venue).
Being presented with multiple time slots can result in cognitive overload, which can sometimes mean bookings/visits get neglected with people 'struggling to complete the activity successfully'.
And with capacity limits in place, which have been significantly amplified by the current government guidance around how organisations reopen post-lockdown, these points of friction have become even greater.
The Science Museum
The Science Museum realised this a few months ago, recognising that timed entry ticketing was becoming more important than ever (including for free admission events which wouldn't have been ticketed at all pre-pandemic).
So we worked with the team at the Science Museum to implement a 'next available slot' functionality on their Tessitura Network Express Web (TNEW) site - the purchase pathway platform that takes customers through the ticket buying funnel. The primary aim with this project was to reduce the friction experienced by walk-in, 'on the day' visitors by simplifying the way they could find and book their tickets - achieved by simply displaying the next available entry time.
The added benefit being that the museum now has access to more audience data, meaning they can gain a greater understanding of their customers (more on this further down).
The timed entry customisation
Previously when visitors walked into the museum without a booking they were shown a long list of available time slots to choose from:

So based on the reasonable assumption that people queuing in the foyer were looking to visit at the earliest time slot possible, we adjusted the information displayed on the dedicated TNEW page to only show the next slot available. 
To do this, we harnessed the power of Javascript to identify the current time slots block and wrap this into an accordion section. From here we can find the first available option and move it from within the time slots accordion into its own section above the dropdown, to make it clear which time has been automatically chosen:

We also kept the remaining time slot options hidden (but easily accessible) within an accordion, so that people who wanted to select a different time could still explore the other slots: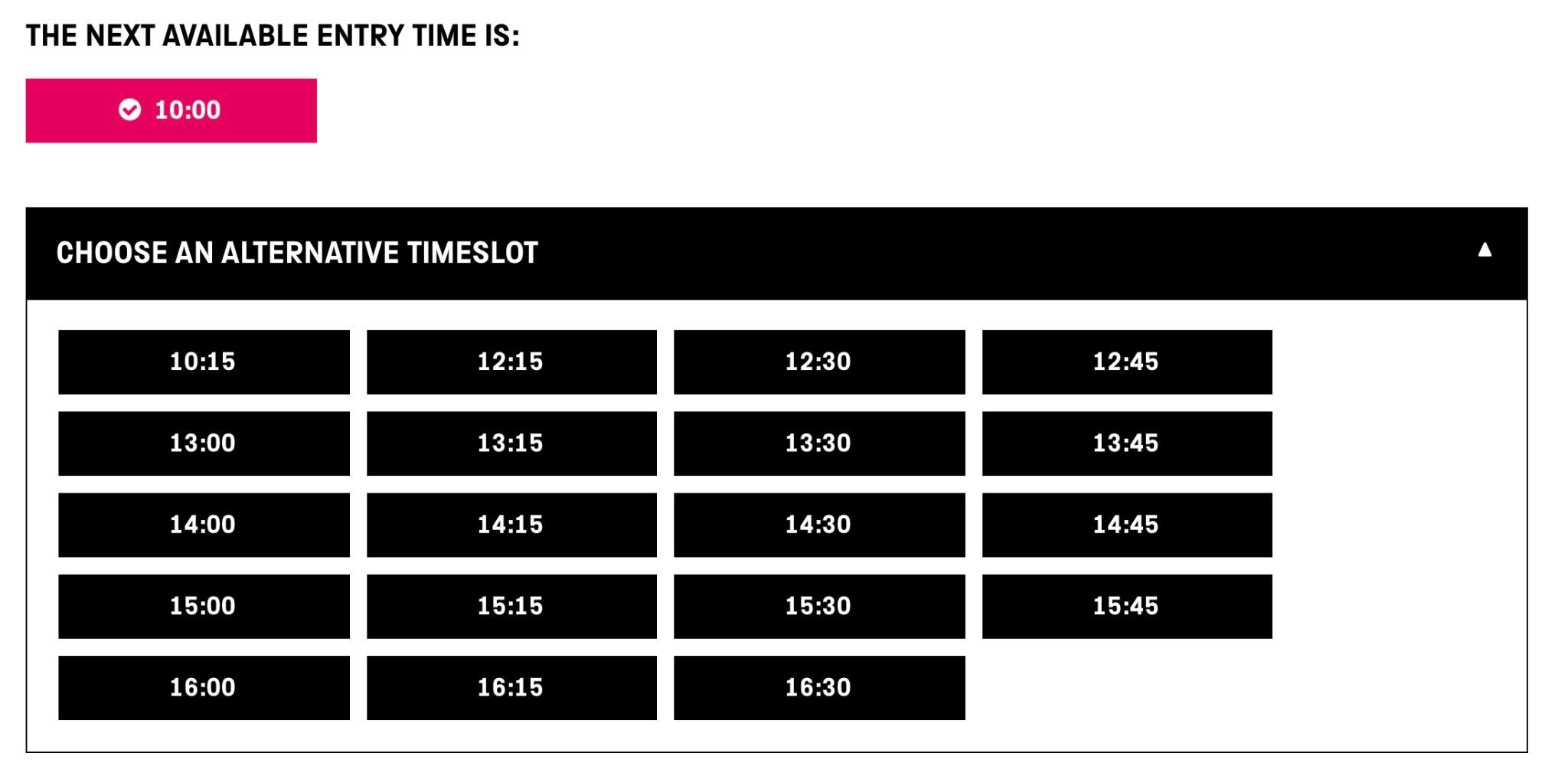 Within the context of the wider booking experience for visitors, they are now simply required to focus on selecting the number of attendees and specifying any access notes that might be useful for staff to know ahead of their visit.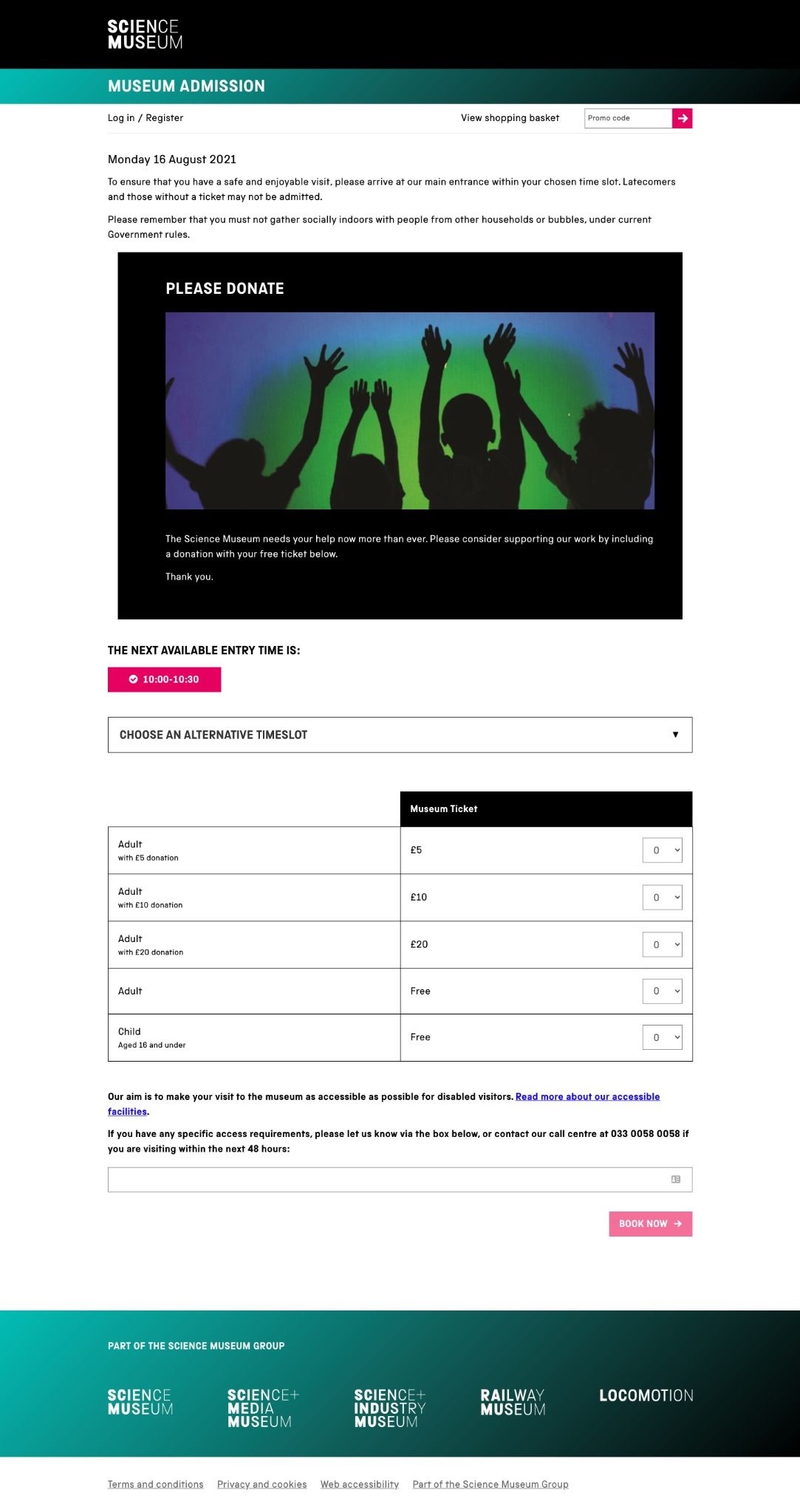 The benefits
By automatically finding the time slot for users and giving them the option to select it immediately, we can reduce cognitive overload (and the need for decision-making) which increases the likelihood of conversion.
It's also given the Science Museum the ability to learn more about the audiences that attend timed-entry and free events, because registration is required to book tickets. This can help organisations shape their programming by understanding:

The demographic makeup of their audiences
The popularity of certain events
Summary
This customisation was added to the Science Museum's TNEW during a busy summer holiday period, to help improve footfall during a time that's seeing more and more in-person audiences returning to arts and cultural venues worldwide.
While this is only a small change, these kinds of customisations can help to reduce friction for customers on the checkout path and therefore increase conversion rates (and in this case decrease long queues for the information desk).
This is one of many customisations that we can easily install on your organisations TNEW. Please do get in touch if you'd like to see a demo, discuss implementation or just have a chat about how we can help: team@substrakt.com