Substrakt is now a BCorp!
We're delighted to announce that Substrakt is now a certified B Corp™.
It's something we've been working on for a while now*. The B Corp certification is based on the idea that businesses should pursue purpose as well as profit (using business as a force for good™). This resonates with how we've always wanted to run Substrakt, the values we live by and the culture we're continuing to create.

We talk about our values a lot. They inform the way we try to approach our work every day and the ambitions we have for the future. But we know it's one thing talking and another thing doing. So we wanted to certify as a BCorp™ to hold ourselves accountable, to show that we're delivering on our mission, and being thoughtful about the impact we're having.
Being a certified B Corp means we've been through a rigorous assessment process (the B Impact Assessment) where we've provided evidence of socially and environmentally responsible practices relating to energy supplies, waste and water use, worker compensation, diversity and corporate transparency. It addresses the entirety of a business' operations and covers five key impact areas - Governance, Workers, Community, Environment, and Customers.
In order to certify, companies need to reach a benchmark score of over 80, with the median score for ordinary businesses who complete the assessment currently at 50.9, so we're really proud to have earned an overall score of 111.3 in the assessment.
To complete the certification, Substrakt shareholders signed a written resolution and updated our company articles of association to meet the BCorp legal requirement. This formalises our alignment with the B Corp Movement's values and legally demonstrates our commitment to purpose beyond profit.
What makes us a BCorp?
A key area of the assessment is something called the Impact Business Model, which is defined as "the ways that a business is designed to create a specific positive benefit/outcome for one of its stakeholders". Because we work in the arts and culture sector, the majority of the organisations we work with are non-profits and registered charities, values-driven businesses who believe in purpose over profit. And because we create digital products and services that help these organisations achieve their mission, we're collectively doing business for good. So our sector focus was rewarded in the assessment.
The work we had already done to improve our recruitment process, focus on Equity, Diversity and Inclusion (EDI) and create a welcoming and rewarding environment at Substrakt meant we also scored strongly in the "Workers" and "Community" categories.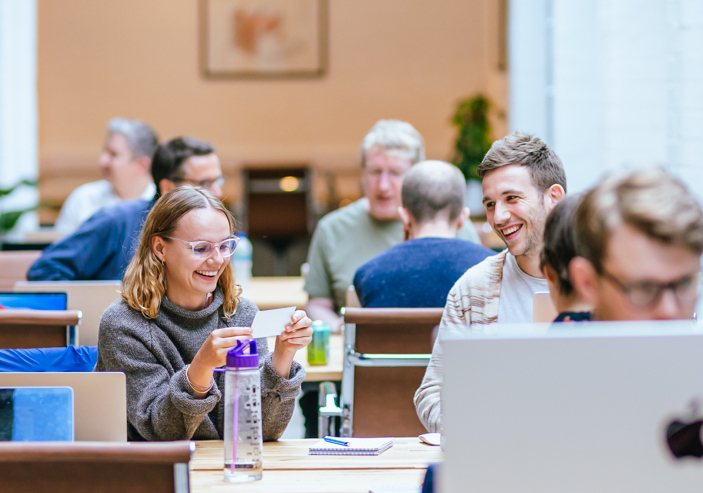 What next?
In addition to continuing our work in these areas, there are some specific things that cropped up during the assessment process that we'd like to improve upon.
Firstly, to learn more about how the organisations we work with are reaching underserved populations. As we've already said, we work with purpose-driven organisations who are on a mission to support diverse communities and make positive change. So we want to make sure we're doing as much as we can to help them achieve it, both with our digital products and services and through our wider sector initiatives.
And we know there's a big difference between having a mission statement and actually living it, so we will be taking more responsibility for ensuring that we continue to work with outcome-oriented organisations who are making tangible positive change
Secondly, something that's been a growing focus for us and will continue to be a priority - sustainability and our commitment to tackling environmental issues. Although we scored well here, the assessment provided guidance on some areas that we can continue to work on, crucially how we effectively measure and offset our carbon, so we're already turning our attention to this.
This isn't something we want to rush, we are taking a considered approach that involves thorough research, testing and learning to help us understand where our work can make sustainable and impactful change.
Onwards! We're really proud to be joining the 6,058 other BCorps around the world who are collectively taking the incremental steps needed for a better future for our work, our people and our planet.
View our BCorp profile and read more about B Corps on their website.
*I have personally had my eye on BCorp certification ever since reading one of my favorite 'business' books, 'Let my people go surfing' by Yvon Chouinard, founder of Patagonia. Patagonia was an early B Corp and Yvon was a founder of B Labs. I've admired his approach to ingraining ethics within companies for a long time, and especially more recently after the news that he and his wife sold 100% of Patagonia's shares to help fight the environmental crisis.