The homepage is dead, long live the homepage!
We all remember those early websites with a 'click to enter' button. Why? Why do I have to click to enter your site? Just give me your website! Retrospectively, we can scorn such oddities. But how many of our current homepages are similarly pointless. How many homepages are the product of organisational ego and unsubstantiated assumptions about what users want? Homepages are frequently the result of the loudest voices clamouring for a position on the front with little thought for what the actual visitors to the site might really want and need.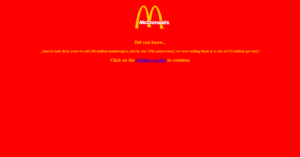 Following the launch of our new site in February 2016, we had a lovely, clean, easy-to-use homepage with a simple navigation. We could promote two of our upcoming productions to it, as well as highlighting our latest three news articles, and other areas of the site such as visit information, our 'About' section, and our learning and support sections. We thought it looked great and put the right information in front of our audiences – it was the 'correct' content to have on a homepage.
But our audiences had a different idea. Looking at data from Google Analytics and Hotjar we learned that, actually, they were just not interested in our homepage. Patterns emerged that suggested users who landed on the homepage did not engage with it and instead clicked the 'What's On' link in the navigation. That's all they wanted – to go straight to the page with a chronological list of all of our productions.
While we were pushing our priorities on the homepage, our users had a different mission in mind: they wanted to find out what was on, read more about productions, and book tickets.
Digging deeper into the data confirmed that our users had no interest in the homepage as we had built it. How users accessed the other information on the page, such as the news updates, was from different sources – mostly users found our news articles from directly clicking on links we promoted elsewhere.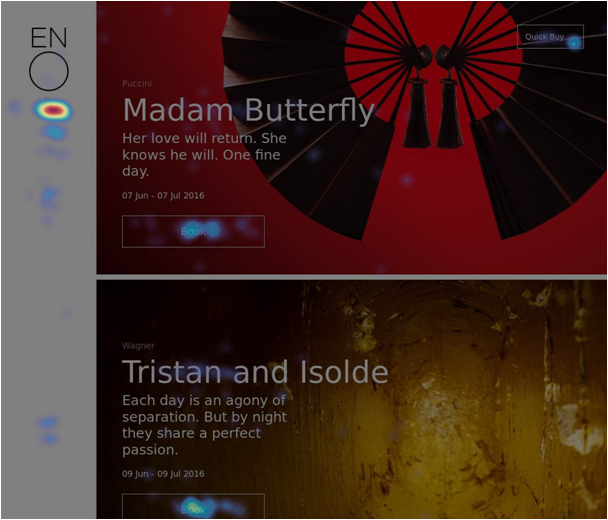 We used Hotjar – an inexpensive yet impressive tool that allows us to conduct quick polls, gather feedback, track user recordings and generate heatmaps – to give us crucial insight into how users were using the website.
We ran a poll for just over a month and gathered over 5,500 responses. It was a pretty simple poll ('Why are you visiting our site?')and an open-ended question ('What could we do to improve the site?') which proved invaluable. 80% of respondents were on the site to book a ticket or to find out more about a production, and the comments quickly told us that our visitors wanted to be able to access that exact information easily without unnecessary clicks. 'Show all upcoming shows', 'List all productions on the home page', 'Tile all events on the homepage at a glance' were but a few of these comments.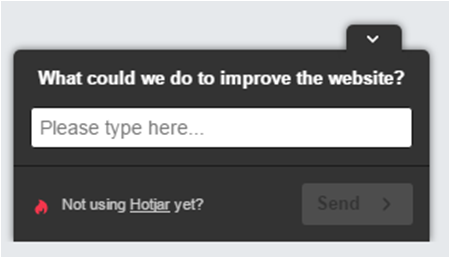 Hotjar also allows us conduct (anonymised) user recordings, enabling us to watch how users navigated our site in a real-life setting. Again, we saw users either scroll on the homepage and then scroll back up and click on What's On, or, quite astonishingly, going straight for 'What's On' as soon as the page had loaded.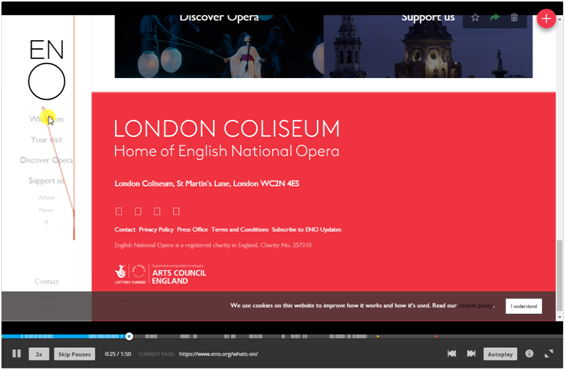 Our Google Analytics data also painted a similar story and supported how users accessed other areas of the website. Interestingly, while the homepage was our top landing page, the 'What's On' page was in fact the most popular page on the site by page views. Additionally, 75% of sessions included the 'What's On' page or a production page.
Including the homepage, our conversion pathway was ten pages. But given all of the above data and user feedback, it was obvious we had a totally unnecessary page in that pathway, and by killing it we would reduce the pathway by 10%.
We therefore chose to put the customer first and make our 'What's On' page our new homepage. We decided to put our productions right in front of the customer straight away and help them find what they wanted.
We can't make audiences use our website the way we see fit – we can only make the website that they want to use, and by doing that we will hopefully engage our audiences better.
We haven't got rid of our homepage – we've just made it the homepage that our users want.