The Bridge: pushing the boundaries
We work solely in the arts, culture and heritage sectors. Our clients include a number of theatres. Last year we were approached by the team behind The Bridge Theatre, the new theatre being set up by Nicholas Hytner and Nick Starr. This was very exciting (it still is).
When Andrew (General Manager) at The Bridge first approached us about the project it was obvious they already had very clear ideas around where they wanted to spend their time in terms of their website (indeed, I've just dug out his original email to us which said "having both time and the luxury of being able to start from scratch has meant that we've done a lot of thinking!" – and they definitely had).
The problem to solve Individual productions at The Bridge may run for around 12 weeks, meaning potentially up to 100 performances of each being presented. Against that background, the team at The Bridge had identified that they wanted to make it easy for people to narrow down this long list of performance dates/times to identify specific performances that had availability matching the users' criteria, whether that was around price, number of tickets, access needs, date or the type of performance (e.g. matinee).
The challenge was less around presenting a particularly large or diverse programme or representing lots of content related to outreach, fundraising or labyrinthine membership schemes, more around how to make it quick and easy for users to get straight to a performance that had the tickets they wanted.
Andrew Leveson, General Manager – The Bridge Theatre:
One of the most exciting aspects of shaping The Bridge has been the ability to step back and take a fresh look at the audience experience as a whole – from the relationship between stage and auditorium to the ease of getting a drink at the interval and the number of ladies' loos. The website was always critical to this – it's most likely the first point of contact our customers will have with us and a vital opportunity to establish our brand. How fantastic would it be, we thought, to aim for an easy, intuitive and (as much as possible) customer-joyful purchase experience? Of course, there are always challenges and time and budget have meant we still have a long list of thoughts, instincts and ideas which we can develop as we launch, build and audience and see how customers respond to using the site – but we're thrilled with where Substrakt's resourcefulness and the great collaboration with Spektrix has led us.
If you look at the analytics of any ticket-selling site you will frequently see users bounce between lists of performance dates and select-your-own-seat screens in a vain attempt to find the tickets that match their criteria (whether that's around number of seats, specific seats in the house or seats at a particular price) – if anyone reading this tried to book tickets for Hamilton recently (or indeed, any popular show) you'll know how frustrating this can be.
We wanted to reduce this as much as possible so we put the user in a situation where they were always presented with relevant options and enough information so that they were moving forward through the purchase pathway as seamlessly as possible (rather than, for example, having to check the seatmaps of multiple performances before they found the seats they wanted).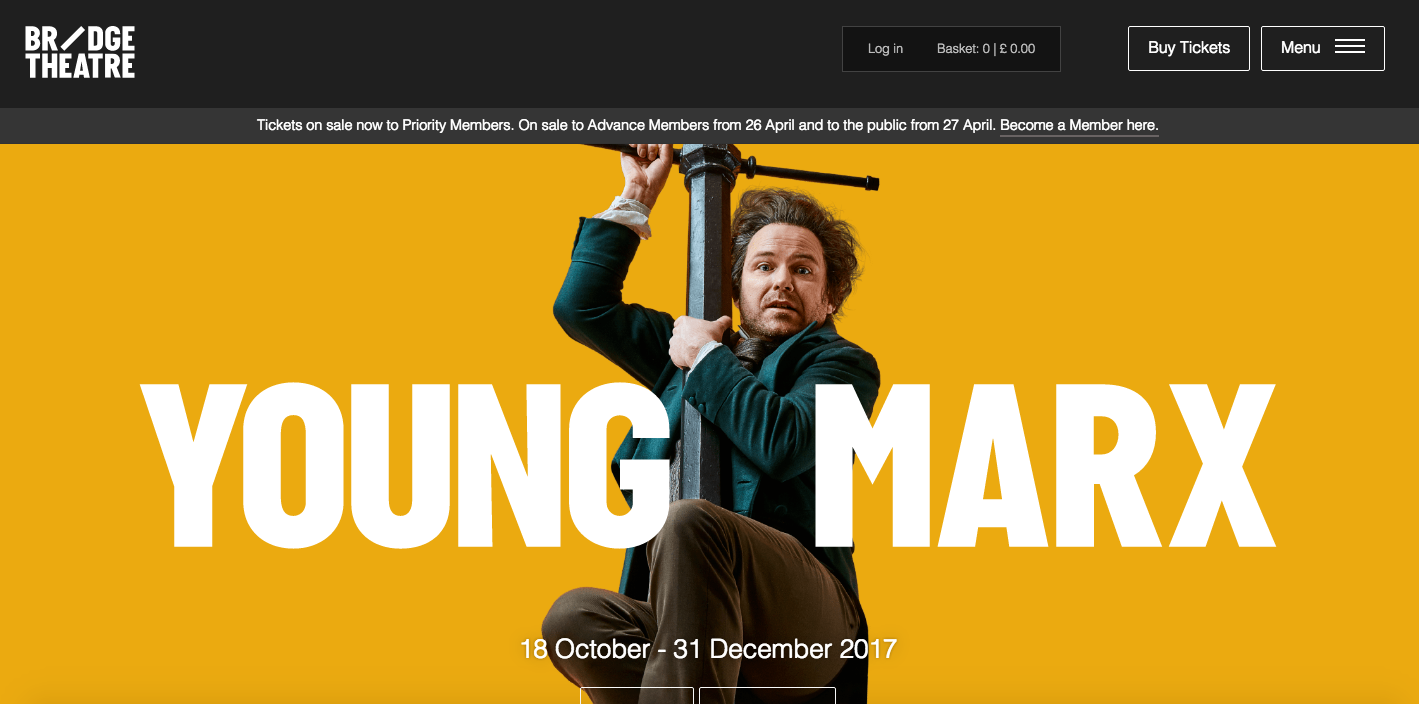 Throughout the project, the team at The Bridge have been keen to make the most of their fairly unique position of starting a new theatre company from scratch. Their approach was free of assumptions which means we have had the freedom to achieve something unencumbered by the need to slot into pre-existing processes. They have also been constantly looking, with an enjoyably ruthless eye, at best practice across the board, not just within the arts sector. This has lead to more-or-less doing away with a traditional 'what's on' feature and replacing it with what, for want of a better name, we have been referring to as the 'performance picker'.
'The performance picker'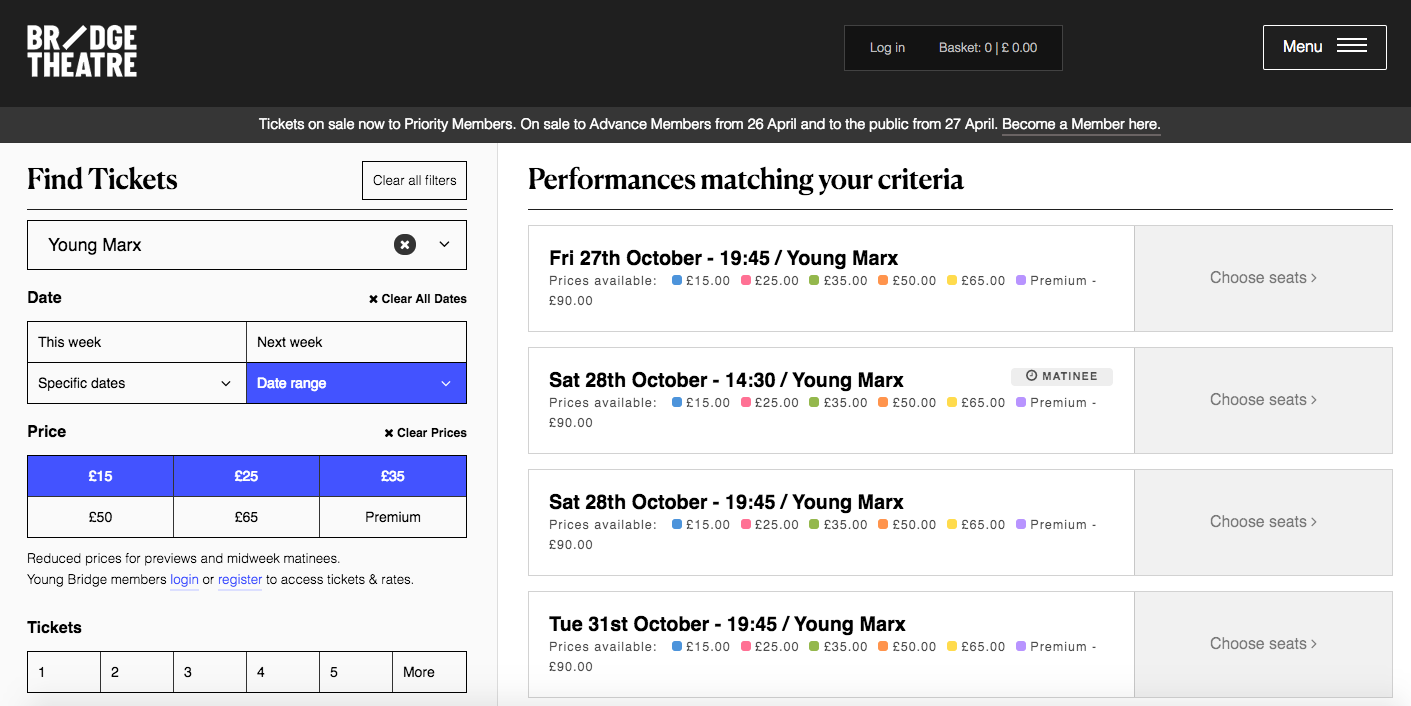 The approach we have taken to enabling the user to narrow down the extensive list of 300+ performances is inspired by, and applies to a theatre ticketing context, the approach of e-commerce sites such as ASOS and Virgin America (i.e. sites in which the user is confronted either with long product lists and numerous ways of filtering this down or forced to make a choice before they are shown any results).
Through audience research, user testing, sector research and the development of personae, we have identified that audience user needs typically begin from either date, price or programme (or a combination thereof).
We have aimed to make moving through the process as clear and unambiguous as possible. By stripping back the options available to the user at each stage and asking them to make their choices (related to those user needs outlined above) in what (we hope) is a logical order, we have simplified what can be quite an overwhelming number of options. We have aimed to strike a balance between the number of filter options available to be really specific with your requirements whilst not demanding the user makes 100 decisions before they're shown any results.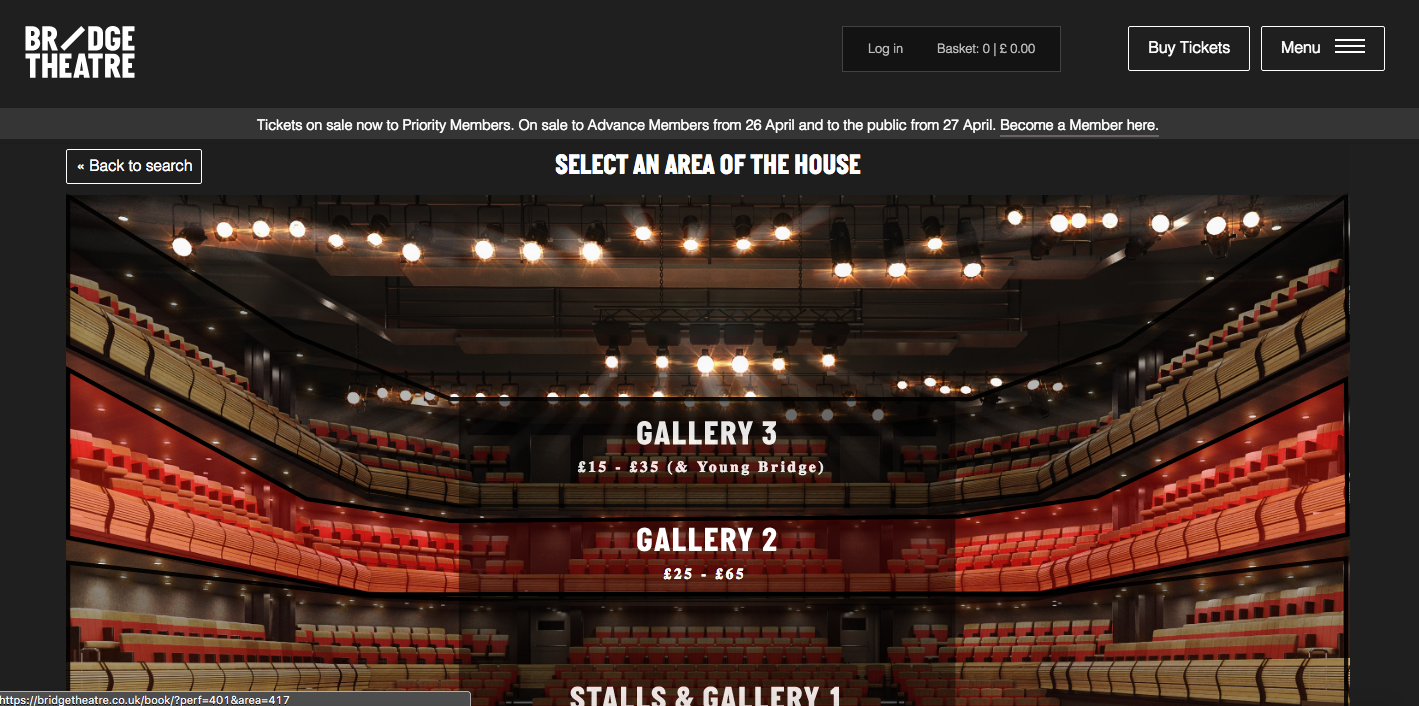 Integrating with Spektrix
None of this would have been possible without a flexible and semantic API with which to integrate. Fortunately, v3 of Spektrix's API is just that. As with all the sites we build, we have looked to reduce administrative effort wherever possible. What this means is data managed within Spektrix then automatically updates the site (changing event dates, times, prices, access performances, previews, etc).
When building the picker we have taken an approach of mixing regular API calls (around price, availability, start times etc) with less frequent calls (concerned with venue, seat positioning, contiguity of seats etc) to build an easily-queryable data structure in the website's database. This approach means we can ensure the front-end performance of the picker is as swift as possible (without tying Spektrix up with tens of realtime API calls every time a user uses the picker) whilst ensuring the data being displayed to the user is always as up-to-date as possible.
Whilst v3 is still in beta we've been fortunate to be able to forge a strong collaborative relationship with the team at Spektrix from the outset. We have also enjoyed the benefit of input from Michael Nabarro, Spektrix's CEO:
This has been a great opportunity for us all to put our heads together to figure out how the combination of an inspiring vision, a great web design team and a powerful backend system can all come together to deliver a really exciting online audience experience.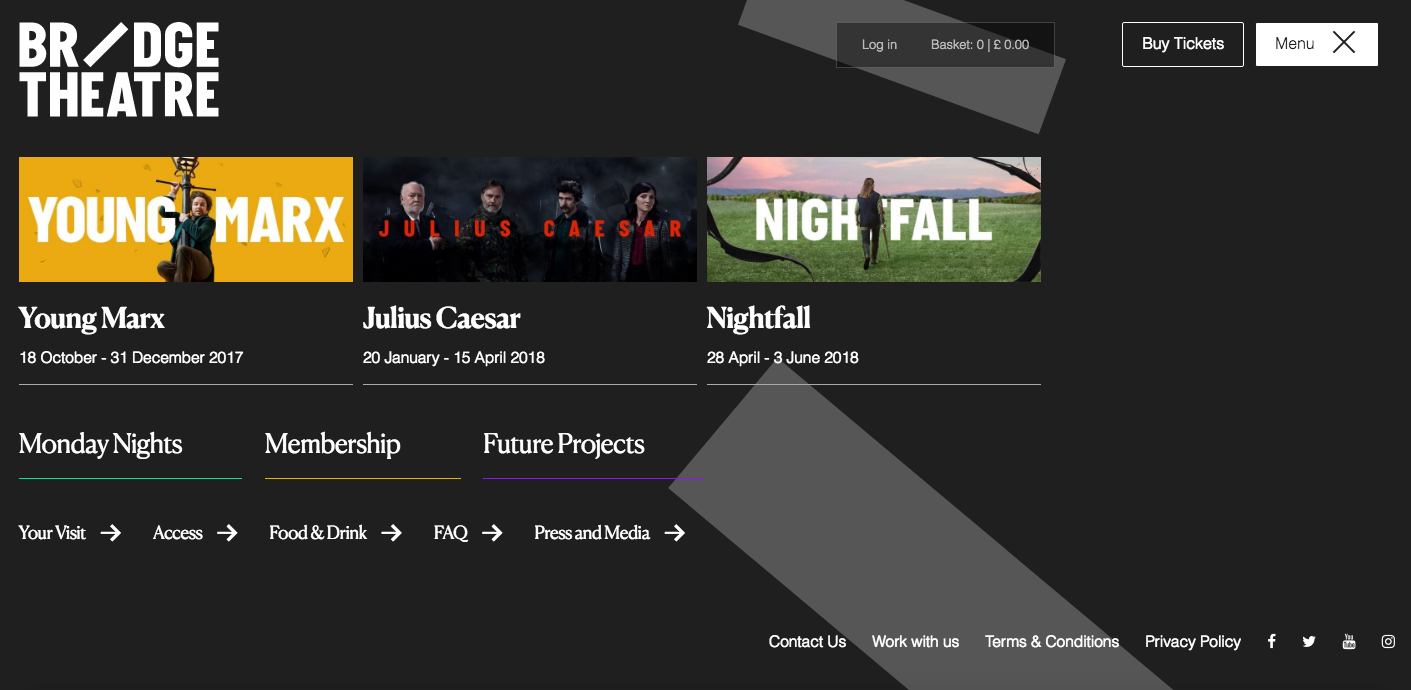 What's next?
There has been a lot of fairly complex work to get to this point. The things we have been trying to achieve and the way in which we've been working with Spektrix are both totally new – we don't think anyone has has attempted any of this in this way before. But we're really proud with where we've reached and are excited about the possibility of developing the system further. Both Substrakt and the team at The Bridge see the initial go-live as v1 of this approach which we will be looking to develop and refine as people use it and we have insights into user behaviour that we can use to inform future iterations.
Pauline Fallowell, The Bridge's Head of Sales and Audience Insight commented:
We know technology evolves constantly, as does the way people use it. Therefore, we don't want a site that is out of date as soon as it goes live, we want something that keeps developing in response to the people that use it, and is always looking to improve their experience. Working on this project we are constantly learning and being inspired by opportunities that can enhance our site, however, we try to keep grounded by first and foremost making it be great at doing the most important thing it needs to do – sell tickets.
More and more of the organisations we work with are taking this longer-term, more considered and more strategic approach to their web projects. Rather than seeing the go-live date as the end of the project, we all now see it as the chance to begin tweaking the site based on real user feedback. Ultimately this informed, iterative approach means that your website is constantly evolving and responding based on your users' needs which means it will be both more effective, and 'last' longer. We hope we are seeing the end of the 'launch it then forget it for 3-5 years then start from scratch' which dominated the sector for so many years.
This has been a brilliant project to work on. We work solely in the arts sector just because of projects like this. Interesting, ambitious work, with fantastic people. If you are interested in talking to us about a similar project, or simply to find out more about our approach to this project then drop us an email at team@substrakt.com.