Simplifying RSVPs with Central Saint Martins, Spektrix & Dotmailer
Central Saint Martins is a world leading centre for art and design education. Every year they invite tens of thousands of guests to their prestigious end-of-year degree shows.
We worked with them to produce a streamlined process for users to respond to email invitations to the event(s) and complete their booking in as few as 2 clicks.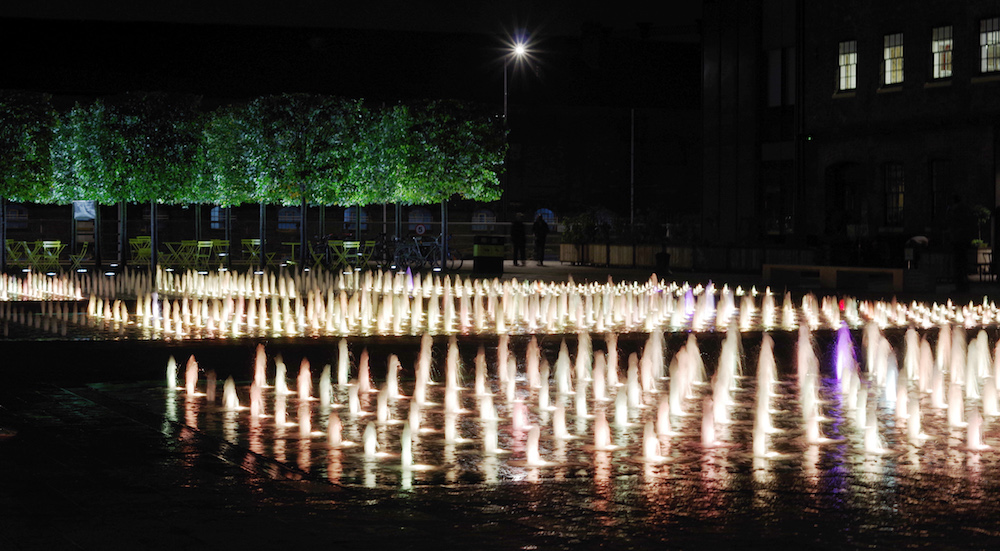 The challenge
CSM use Spektrix to deliver all of their event booking and ticketing, including their end of year degree shows.
Each private view has a huge number of guests invited, from students, family & friends, staff, existing business contacts and new VIPS.
A large majority of the people being invited have never been to a CSM event before and thus have no customer record within the system.
Whilst using a ticketing system, with full CRM capabilities and a sophisticated email integration, is perfect for event-based bookings for most of the CSM event programme, the user experience for degree show invites and RSVPs is quite different.
The team at CSM knew that the concept of, and multiple stages involved in creating an account and "booking" a ticket, simply in response to an invite wasn't the optimum user experience they were looking for.
They were really keen to retain the data they were collecting within their existing events database and to lean on the ticketing and integrated mailing features of Spektrix wherever possible.
Eventually this evolved into quite a large administrative task for the team as they strived to mitigate any confusion and reduce the effort expected by their invitees. They developed a series of manual processes for invitation management which involved a significant number of administrative hours to deliver.
This included numerous manual processes for collating and uploading invite lists, a series of informative email notifications and manual invitation management, individually booking each attendee via the Spektrix sales screen.
Not only was this a lengthy process for the events team, but from a user perspective it included a number of emails, spread across a few months, resulting in a lot of last minute confusion as to when they were sent tickets and queues at the entrance trying to locate (and cross-reference) order numbers and tickets.
Our solution
Discussing these processes with the team, it was clear that we could make use of the  existing integration between Spektrix and Dotmailer alongside some further integration with Spektrix's powerful API to create a seamless user experience, resulting in as few clicks as possible.
Users who already existed in Spektrix (e.g. industry contacts, VIPs, Students, Staff etc) received an email via the dotmailer/Spektrix integration inviting them to the appropriate private view.
Depending on the campaign received there were various options for the number of places available so each call to action had unique links containing the recipient's Spektrix client ID, relevant instance ID and the number of tickets they had selected.
The recipient clicked on the link in their email and arrived on the landing page where they were to confirm their RSVP. This landing page was personalised and dynamically pulled in their name, the event title from Spektrix, and displayed the number of tickets they had chosen.
From there all the user had to do was click 'confirm' and using both the customer ID and instance ID we created an API call to look up the customer record and use it to create an order for the relevant event.
Within a few moments the recipient would receive the automated email order confirmation and their print@home tickets, the whole process completed in a few clicks.
Users who did not exist in Spektrix still received a specific (but less unique) link in an email, which contained the Spektrix instance ID. However, without an existing customer ID we added an additional step, and subsequent API call.
Following the link in these emails took them to the landing page which recognised the event they were trying to RSVP to. They then filled in their first name, last name and email address (the minimum details required to create an account in Spektrix).
In this scenario we posted the new account details to Spektrix via an API request, and as long as we get no return errors (such as invalid email or email exists) the account was created and we could then immediately make a second call to create the order, as in the first scenario, with the automated email confirmation and print@Home tickets arriving moments later.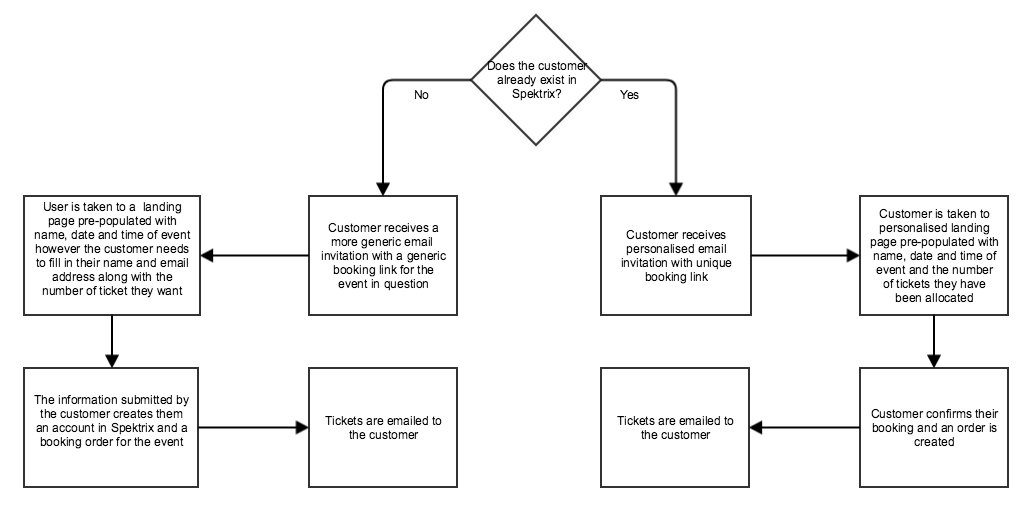 "Before working with Substrakt our two-person team spent eight weeks on the ticketing for our end of year Degree Shows – which over 35,000 people attend annually. As we ticket our Degree Show Private Views we needed an RSVP system which was easy for the user but also issued tickets, allowing us to collect and analyse attendance reports. Previously, we managed this process manually which as well as being time consuming, often resulted in emails from confused guests wondering why their tickets hadn't arrived yet.

Now the work can be managed over two weeks. We can now present a consistent user experience across the event confirmations and emails we send to our guests. Once someone RSVP's to our invite they receive their email tickets instantly with no need to select the show, seats, or input any personal information. The brief given to us and Substrakt was to make the user experience as seamless as possible –their work has truly surpassed this, resulting in an effortless system of just two clicks to confirm and issue tickets."
Keiron Craven-Grew
Event Project Facilitator – Central St Martins
An added bonus
With thousands of contacts and potential new VIPs, it was important to ensure that the team could still analyse uptake alongside their existing CRM segments.
There was also a desire to track which departments had invited which users, so that future correspondence could come from the correct department or individual.
In Spektrix, a tag is a way of recording custom information against a customer record. These are custom and can be applied manually or automatically when certain criteria are met. These tags form the basis of the CRM capabilities in Spektrix and allow the team to easily flag, email, group, extract and analyse their customer database through reports and customer segments.
For the team at CSM, they already had a comprehensive set of business related tags within Spektrix. The team there set up some additional tags to track the type of invitation and the department that would be initiating the first invite. We added in functionality to allow CSM to specify these customer tags, embedded within the links on their calls to action. At the point of creating the account within Spektrix the record would be updated with the correct tags.
Setting these tags at the point of RSVP meant that CMS could start incorporating these people immediately into any customer segments and analysis reports in Spektrix, removing the need to upload or import lists of customer after the event.
Added to this was the option for a recipient to consent to future email communication (via an opt-in checkbox on the form on the landing page), maximising the opportunity to further engage with some of the thousands of guests attended the shows.
Dealing with 10,000+ orders
Because there were thousands of potential guests receiving emails more-or-less at the same time we needed to make sure that the system could handle high volumes of simultaneous requests (there's no point making a streamlined experience if no-one can access it).
We levered the capabilities of RabbitMQ to process the the requests at a rate that wouldn't overwhelm the Spektrix API in the event of a sudden rush of users registering for tickets.
Rabbit MQ is an open source messaging broker. Requests known as 'messages' were sent to a Rabbit MQ server, where they are stored in a queue. The queue is then processed sequentially in a first in first out (FIFO) manner. Meaning the first person in the queue was the first to get their tickets.
We also built in error handling so that after a specified number of unsuccessful attempts, an admin at Central Saint Martins was alerted to the issue (via email), meaning they could follow up the order with the relevant customer directly.
As we used Heroku we were able to make use of a Rabbit MQ add-on, making the setup very easy. Heroku add-ons are easy to install "plugins" for your app. They are managed by the provider, leaving you to focus on building the app.
This approach was only viable because the event was general admission. If reserved seating was required then an additional step of assigning seats to orders would have been required which could necessitate a queuing system such as QueueIt.
Lessons & Takeaways
This was a great example of a burdensome, complex, time-consuming administrative process that could be alleviated with a technical solution. Not only has this resulted in a much reduced workload for the team at Central Saint Martins it also delivers a much more simple, straight-forward and coherent experience for CSM's users.
Visualise the problem. Mapping out every step of the process, and engaging with all the members of staff who were involved in delivering that process, was incredibly helpful in understanding exactly how we could shorten and simplify what needed to happen. Whilst a digital solution won't always be the answer, visualising the process as we did in the early workshops gave us valuable insights into how and where we could intervene to improve things.
Understand user frustrations. CSM had a very clear picture of where and why users were finding the old process difficult, this was based on comprehensive user feedback, interviews and surveys rather than just a few anecdotes.
Think differently. It is huge credit to the team at CSM that they were so willing to so openly consider all the options we put forward. There was no 'we have to do it this way because this is the way we've always done it', the focus was always on improving the user experience and making everyone's lives easier. If that meant things needed to change then they embraced that wholeheartedly.
Understand the tools you already have. A great deal of the success of our approach leveraged existing integrations and functionality. Spektrix's Dotmailer integration is long-standing and very feature-rich, understanding and harnessing the potential of that allowed us to focus our efforts on filling in the gaps and extending the functionality rather than reinventing the wheel. The Spektrix ecosystem provides a good starting point to be able to explore this kind of functionality from.
If you want to talk to us about the work we've delivered for Central Saint Martins, or a similar project, just drop us a line: team@substrakt.com.