It's been a year since we released Quick Donate, a tool that we created to help users donate more easily and quickly to cultural organisations by removing the barriers to donation. As a result, it also allows cultural organisations to process donations more efficiently. 
So as we celebrate it's first birthday, we wanted to share some of the latest results, features and improvements that we've made throughout the year. 
Because while the tool was originally launched in response to the pandemic – as many organisations were suddenly relying on one-off donations as their main revenue stream – having a quick, simple and user-friendly donation process is something that we imagine any organisation might like to have, pandemic or not.
Results Snapshot
Nine organisations signed up (seven in the UK and two in North America)
Over 2,750 donations have been received
Over £98,000 has been donated using the tool for our UK partners
Over $66,000 has been donated using the tool for our North American partners
Avg 70.5% Gift Aid opt-in rate (which allows UK organisations to claim an additional 25% on top of the value of original donations)
Average donation amount £47 / $138
Average largest single donation amount for UK organisations is £1,008 (highest single donation has been £5,000)
Average largest single donation amount for North American organisations is $3,750 (highest single donation has been $5,000)
We have also gathered data around the time it takes for users to donate through Quick Donate compared to other donation tools. Our latest metrics (taken from a sample pool of our partner organisations using Quick Donate versus those using other tools) tells us that the time to task completion for Quick Donate users averages at 91 seconds, compared to an average of 147 seconds for non-Quick Donate users.
In other words, an average 38.02% decrease in the time taken to make donations using the tool.
Highlights
Norwich Theatre Royal ran a hugely successful marketing campaign using Quick Donate in June last year – the Norwich Theatre Crisis Appeal – that saw the Theatre take an incredible number of donations across the month.
The campaign, which ran with the direct call-to-action "Our buildings are nothing without you, please consider becoming part of our lifeline", actively encouraged people to donate by recognising their critical value during the pandemic.
On June 19th, donations reached an all time daily high, bringing in 32% of the entire month's worth of donations.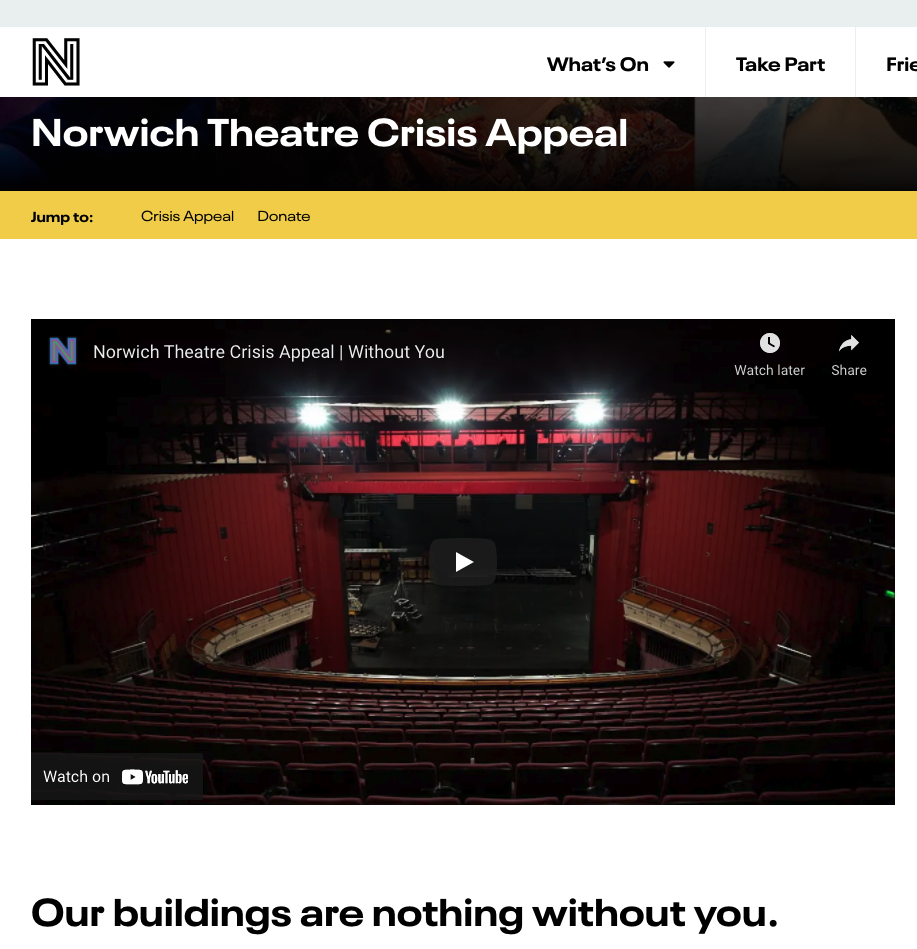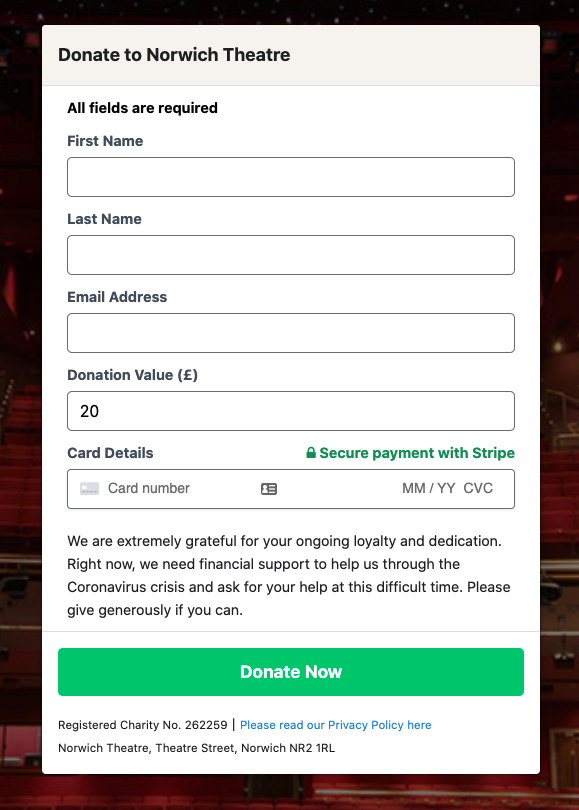 The Royal Court took a similar approach in October with their 'Support the Court'  campaign, which saw 54% of the total donations received across that month come in on a single day.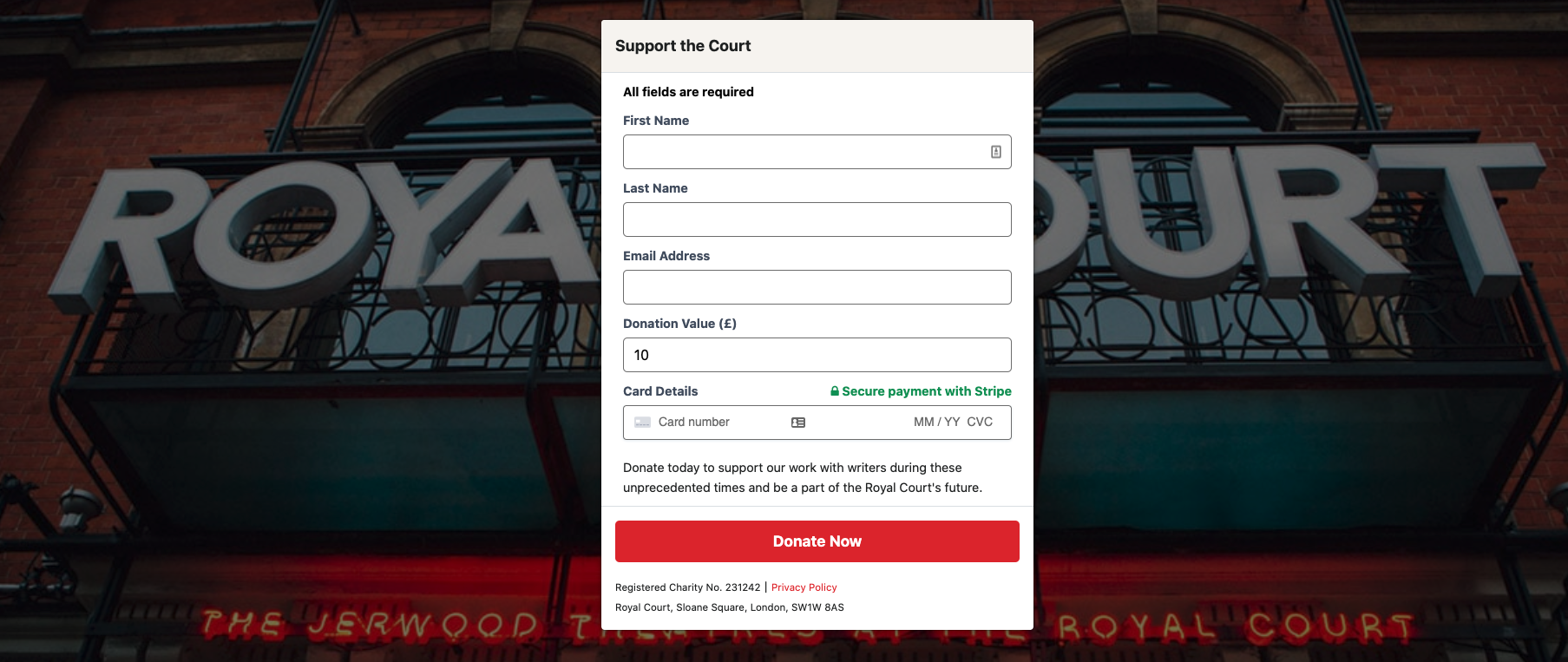 Ensemble Theatre has also seen high value one-off donations coming through (regularly receiving donations between the value of $500-$1000). This demonstrates that people are willing to make high value donations online (as opposed to over the phone, where high value donors are often directed), particularly when the process is made so easy.
Goodman Theatre saw some great results over the Christmas period, when they used Quick Donate as a modal on the landing page for their radio broadcast of a new production of A Christmas Carol.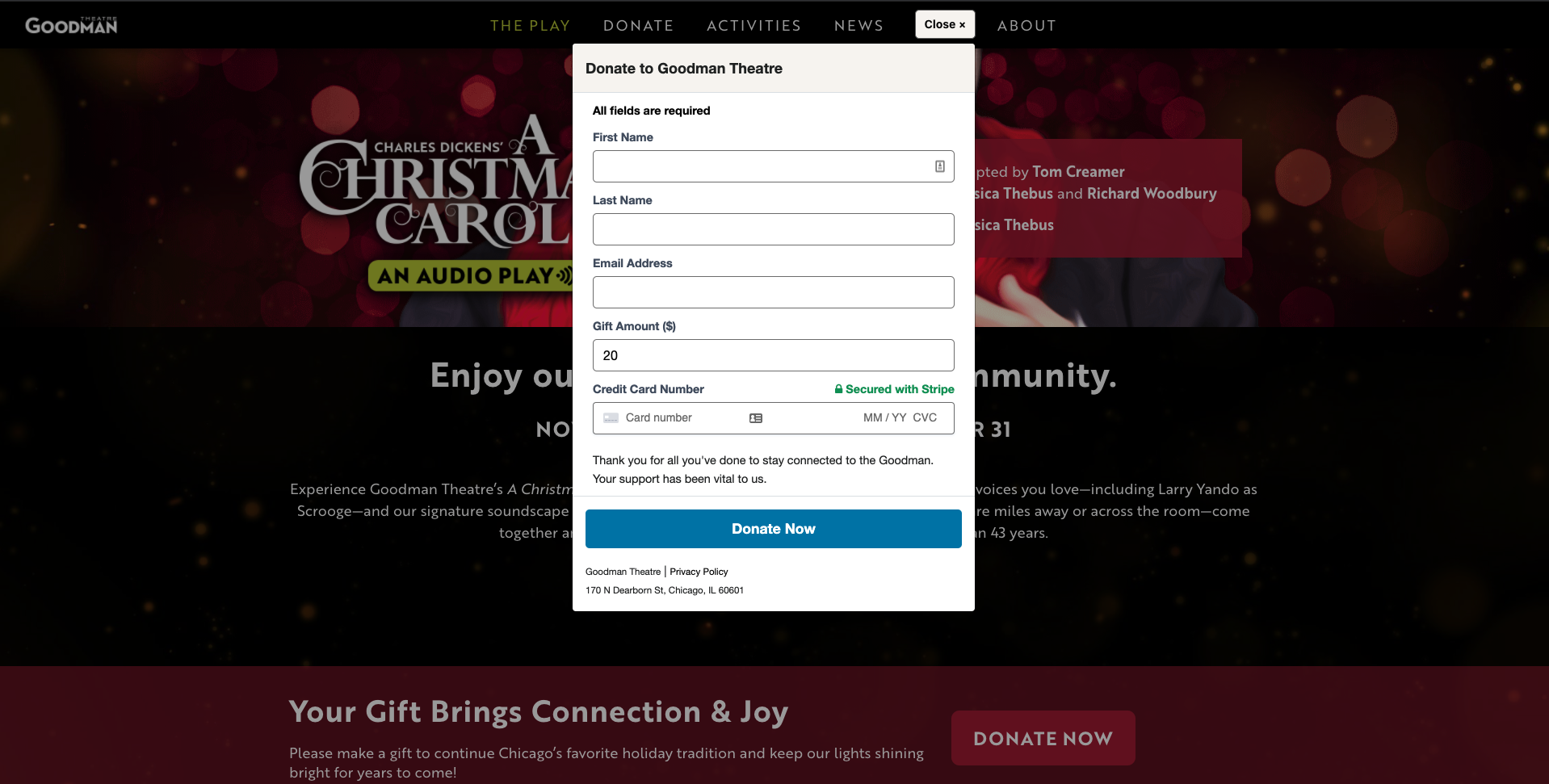 Features
Since launching Quick Donate with Aberdeen Performing Arts, we've continued to develop the tool to help improve its functionality and meet any specific needs of our onboarded partner organisations. Introducing features including:
Multilingual functionality
Campaign-specific styling
Custom parameters – which can be strung together to do one of more of the following (e.g. by making use of custom parameters, you could run a specific campaign in a modal, set in a different language, at a set donation value):

Campaigns mode, as above
Translation
Modal, as above
Set default donation value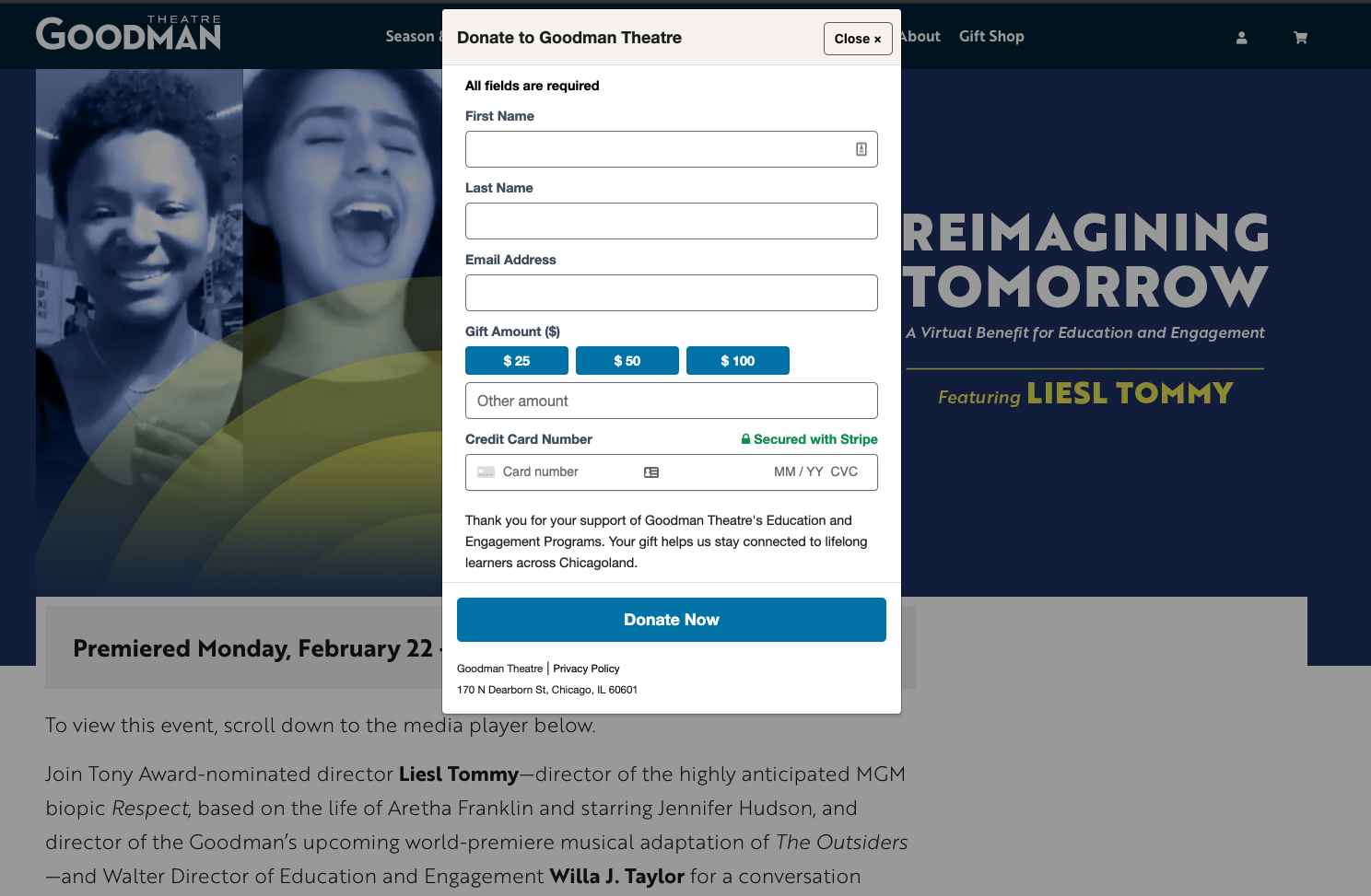 Interested? Get in touch
If you are interested in using Quick Donate at your organisation please just drop us an email: team@substrakt.com.