What is it?
Leading Design is an annual festival that brings together a bunch of folk to talk about leadership in design.
The festival took place online and was hosted inside a Vito hub. There were many hands on deck, with members of the festival team answering questions and comments, and sharing relevant resources in a dedicated channel.
There was also a large Miro board that had been structured around the festival format, which had plenty of action throughout the week.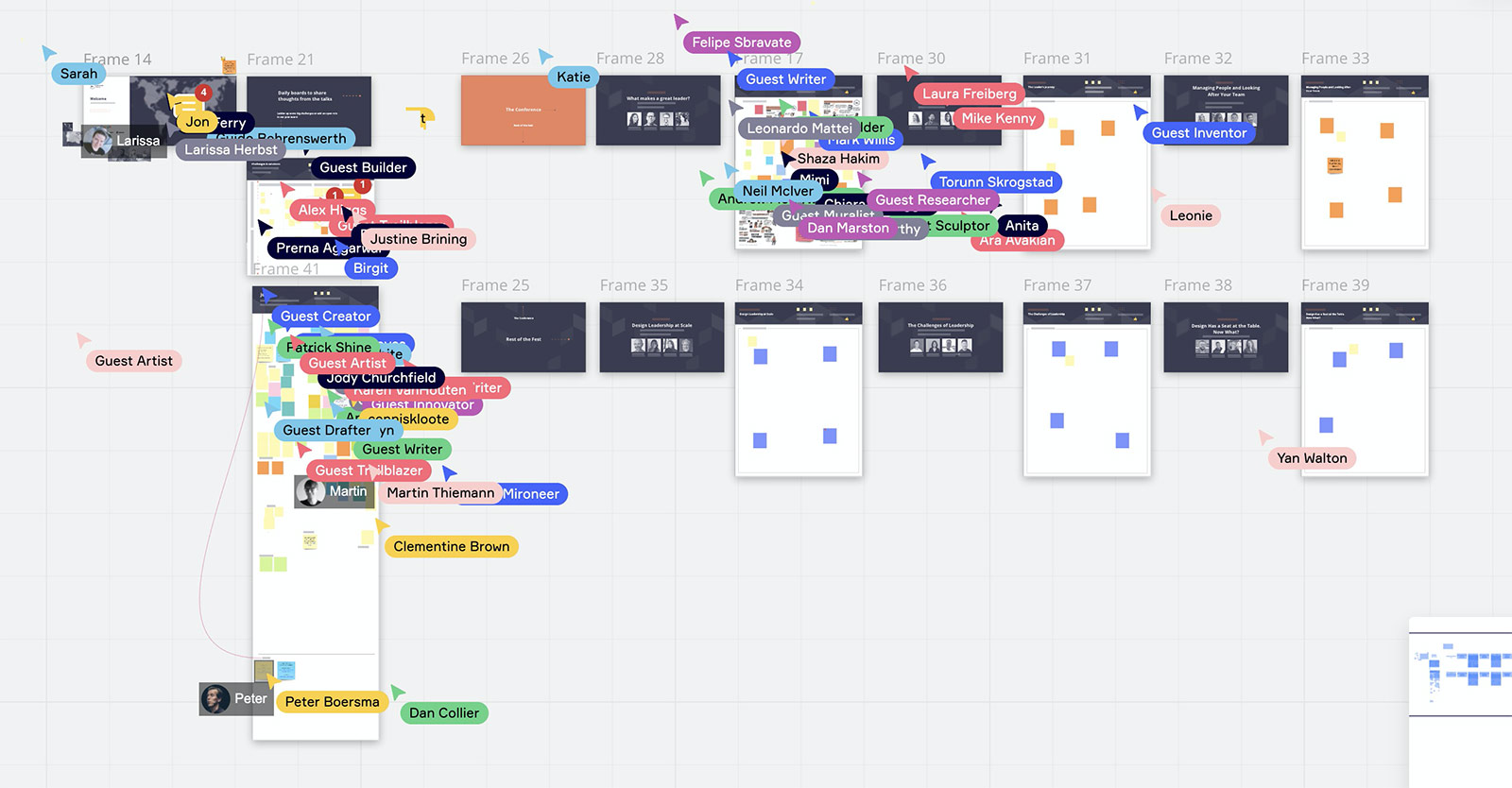 The festival introduced me to a bunch of new concepts, particularly the two distinct routes that individuals often take as they progress in the design industry – namely the IC or Individual Creator path (hands on, specialist designer etc), or the management path (creative director, head of design, people manager etc). Speakers included a broad mix from both camps, including many who have alternated between the two.
The best bits?
The format was slick, a mixture of pre-recorded talks and live Q&A's, with intro and closing talks by host Andy Budd each day.
For me personally, the online setup was brilliant. I'm a note taker, and the screen based format allowed me to prepare a set of notes for each speaker.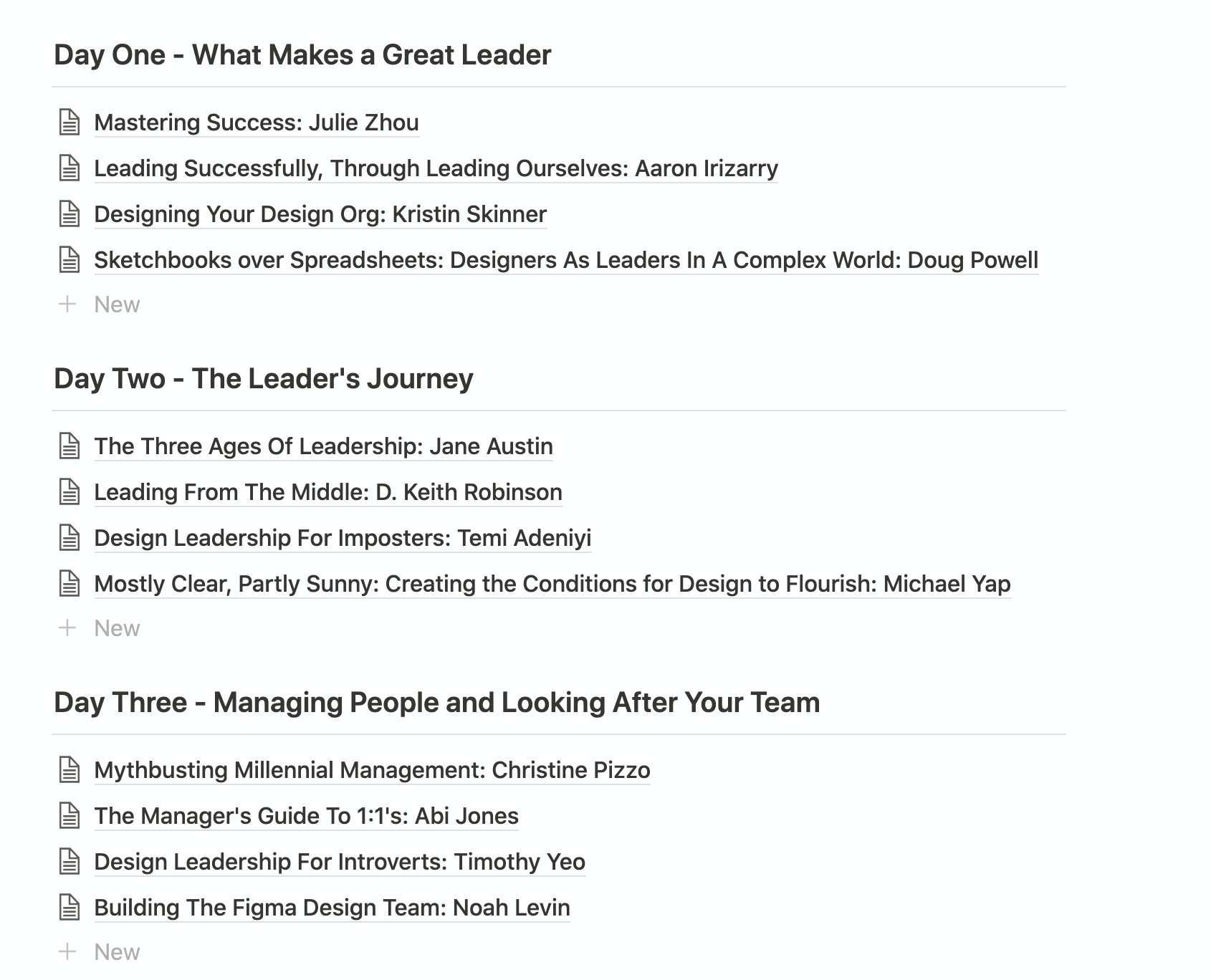 I also appreciated having the ability to be able to pop away from the computer and see my family during the breaks (special thanks to the organisers for arranging the breaks around my son's bath time).
The quality of the talks was excellent across the board, both in content and presentation.
Particular highlights for me were:
Temi Adeniyi talking about her feelings of being an outsider in the design industry, and the way she has overcome this to become a design leader. Despite outlining her ongoing battle with confidence and imposter syndrome, Temi came across as both calm and inspiring.
Michael Yap explaining the work he and his team have done (and continue to develop) to create the 'conditions for design to flourish'. Michael focused on the subject of 'design process', which is something that designers will often approach in isolation, and often not take time to interrogate and discuss (something I know I've been guilty of in the past).
Jane Austin outlining the three ages of leadership, interspersed with plenty of delightful battle stories from her time as a design leader. A real insight from Jane was the notion of relenting control, and she concluded her talk with the beautifully simple quote by Tina Fey: "Hire great people and get out of their way".
Timothy Yeo being super honest and inspiring when talking about being an introverted leader. Timothy talked about the ways in which being introverted can be a positive trait within teams, and that introverted leaders are known to build teams where ideas can come from anywhere, regardless of rank or job title.
The tricky bits?
The online format had its fair share of technical glitches. Host Andy made a great job of holding everything together, using his obvious experience—along with the charisma and empathy that he projects—to keep momentum flowing.
There is also the obvious issue of an online-only festival. I've often rolled up to these kind of things alone, and have never failed to meet people, some of whom have become colleagues and friends over the years. Missing out on that takes a lot of the magic away for me. I'm stating the inevitable really, and given the challenges the past year has thrown at event organisers, I'm certainly not aiming this as a criticism of Leading Design.
Final thoughts
As I mentioned, I've never attended an event of this nature before, having previously gravitated towards more general and practise based events and festivals. There was a lot to take in, and I did my best to absorb as much knowledge as I could within the three days.
And I can say that without a doubt, I've never learned so much from a conference or festival, online or otherwise. Leading Design has plugged a long list of gaps in my knowledge, answered a lot of questions I had, and presented a bunch more.
My biggest takeaway from Leading Design Festival is the humility, warmth and honesty displayed by all of the speakers, and for someone aspiring to be a design leader, these are the perfect building blocks to begin with.