So there's no doubt, we're in a bit of a fix. All of us.
Arts charities are seeing a potentially devastating loss of admissions and ticket sales revenue alongside reduced donations.
Recent weeks have seen a mass of well-intentioned arts messaging, desperately trying to inform, encourage and console.
But with such torrential and competing content being broadcast through online channels, as well as the global noise and stress, there is a danger that much of this is rapidly becoming difficult to navigate, with useful information likely to be lost.
Can we fix this by having an easy-reference portal, with relevant routes to your cultural interests? We think we might, so we've built Culture Fix.
Here at Substrakt, we hope Culture Fix can also be a funding lifeline right now for arts and cultural organisations.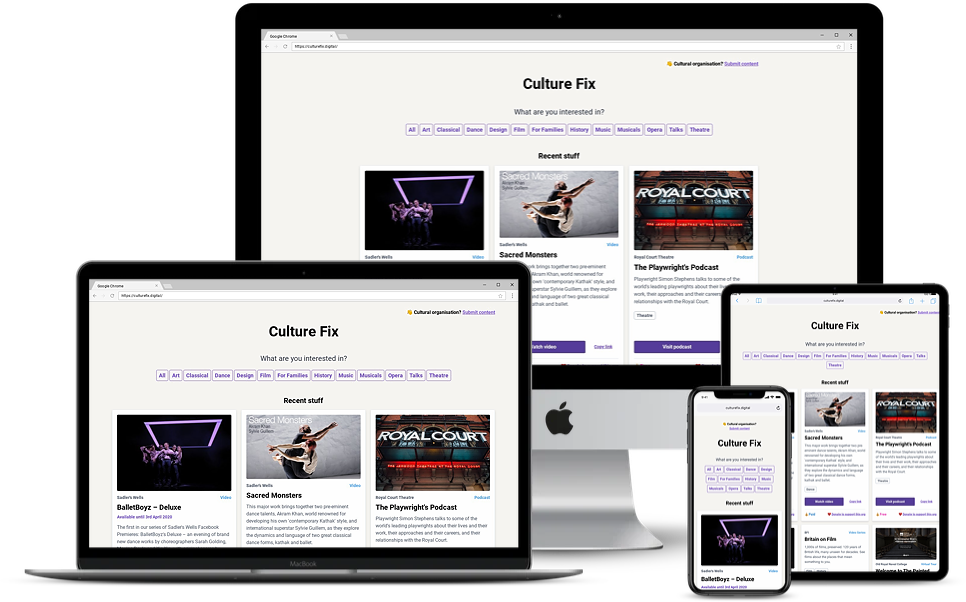 It's a simple, easy to navigate direct donation channel. Anyone can swiftly find out how to support listed arts organisations, while discovering other new stories and hidden gems, connecting with creativity, reliving past performances, unearthing inspiration for home-schooling, and exploring more deeply if they wish.
We know the arts are already an essential and immediate part of the COVID-19 recovery position for everyone. Across the world people have been singing and playing instruments, making animations with their kids, reading poetry, and dancing in their kitchens and on their balconies.
People everywhere are turning to the arts for inspiration and solace.
Arts charities employ thousands and deliver riches for us all, both across society and for the tax man. But right now many performers, back-stage and back-office teams could be struggling for months due to cancelled shows, limited trading and fewer donations. Yet they are still a source of joy and good news, packed with stimulating creative talent, and guardians of our shared heritage.
They deserve support and need their audience more than ever so they can thrive once again when the time comes.
Recovery is in our hands, and together we can keep the show on the road. We'll all remember how we responded when it counted the most: from washing hands, to helping hands, to (one day) clapping our hands when the curtains rise once again.
We've already placed a few items (100 and counting) of sample content (from cultural organisations around the world) on the Culture Fix site, but it's easy for anyone to add more (with minimal moderating).
Substrakt have created all this proactively and pro bono – we receive no financial benefit from any donations which go directly to arts organisations as listed.
If any media owners, donors or grant-making trusts are able to boost support for Culture Fix by accessing the widest possible audience, please get in touch.
If you want to talk to us about this project please don't hesitate to get in touch culturefix@substrakt.com.
We've got lots of ideas to expand this but we do need your help.