How we work with: Tessitura
We often get asked 'how do you work with [insert name of software/platform/whatever here]'? So we thought we'd do a series of posts that answer the most common queries we get. Today: Tessitura.
Tessitura is an enterprise application used by performing arts and cultural organisations to manage their activities in ticketing, fundraising, customer relationship management, and marketing.
Through our work with arts and cultural organisations we will often be building websites and other products that need to integrate with the organisation's ticketing/crm system – frequently this system is Tessitura. Our typical approach to Tessitura projects has been described by Karyn Elliott (Tessitura's Director of Client Services, Web Products) thusly: "Substrakt's approach to tightly integrating Tessitura with the CMS is the best of both worlds. You get the benefit of an off-the-shelf web application that evolves with the Tessitura roadmap, along with a very personalized and maintainable marketing site."
In the past, web integrations with Tessitura were only possible through a fairly complex integration with Tessitura's API. More recently Tessitura introduced their TNEW (Tessitura Network Express Web) product which made available all of the essential components of web-facing functionality (e.g. what's on listing/calendar, production pages, seat selection, payment processing etc) in a relatively easy to deploy 'off-the-shelf' solution which did away with the need for the complex, costly (and, to be honest, fairly boring) technical development work required to deliver all of this functionality from scratch.
You can also (to a certain extent) apply styling to TNEW (functionality which will be greatly enhanced in the next version – v7 – release for which we have produced templates – read about that project here) so that it matches your branding.
Another advantage of TNEW is that it is developed and maintained by Tessitura so it's always going to be compatible with whatever new functionality/processes/etc Tessitura may introduce.
The 3rd way: a hybrid approach
So now there are two options for achieving a website that integrates with Tessitura; you could go the whole hog and do a totally customised API integration or you could deploy TNEW – however in all of the projects where we've integrated with Tessitura we have adopted a hybrid approach. Our approach involves both the utilisation of TNEW and integration with the API, we believe this results in the most efficient allocation of (often thinly-stretched) resources and allows everything to play to its strengths.
Typically with this approach most of the website will be built on top of a WordPress-driven CMS, we have written a WordPress-specific integration with the Tessitura API which enables us to 'sync' key event information into the CMS (this varies from project to project but will typically include, at the least, the event's performance dates, times, location and pricing but we can also utilise Keywords within TNEW to pick up attributes such as access performances etc and bring them across as well) thus removing the need for the duplication of data-entry and gives the box office/sales team a single point of control over key event information if it needs updating i.e. within Tessitura. This creates an individual page for each production within WordPress.
Additional content such as reviews, photography, trailers, linking to other relevant content (news stories, blog posts, other productions) are then added to the production page within the WordPress CMS and published to the website.
This broadly outlines how the two systems integrate and where the 'master' data lives: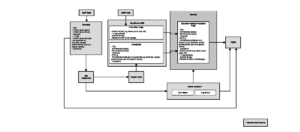 The CMS will then link through to TNEW at a point in the purchase path we agree – typically this is either to the 'production season' page (which lists all of the performance dates/times) or the SYOS (select your own seat) page for a specific performance. From that point on, the user journey is handled and completed within TNEW – once the purchase is completed you can pass the user back to a url of your choosing, whether that's within TNEW or on the WordPress side of the site.
This diagram outlines how the user flow might look if we were linking through to the Select Your Own Seat page within TNEW:

Styling TNEW
Hopefully you can see how the various bits of this approach hang together in terms of technical integration and what the user journey involves.
TNEW allows you to apply styling via CSS so that the two separate systems (i.e. WordPress and TNEW) can give something approaching a seamless user experience.
Below are a few screenshots of the work we've done styling the TNEW pages on the Birmingham Hippodrome site:

Advantages of our approach
We believe the advantages of this approach are numerous, you bypass the need to allocate resources to the costly and complex development of a purchase pathway whilst still retaining the ability to customise the user experience so that it meets your organisation's needs (through using TNEW).
You also bring event information into the WordPress CMS which allows you to achieve things such as: event information appearing in site search, being able to cross-promote productions before the user hits the purchase pathway, sophisticated what's on grouping and filtering.
Basically you let WordPress do what it is good at: enabling an engaging and intuitive user experience that allows you to showcase the entirety of your offer and you let TNEW do what it's good at: processing the transaction.
We have utilised this approach on a number of sites including; Birmingham Hippodrome, Nottingham Theatre Royal & Concert Hall and Wales Millennium Centre's Festival of Voice.
If you'd like to talk to us about your Tessitura web project then get in touch: team@substrakt.com