How we temporarily adapted our video content platform for MCC Theater's online festival
A year after launching MCC Theater On Demand, the first implementation of our video content paywall platform [showcase], we temporarily repurposed the platform to enable the online delivery of MCC's annual FreshPlay festival.
Each year, our friends at MCC Theater produce the week-long event programmed through their educational department, The MCC Theater Youth Company, which aims to celebrate and showcase original scripts from young playwrights enrolled in their Playwriting Lab programme.
So when the (frustrating yet somewhat expected) restrictions around COVID meant the festival needed to be streamed and hosted online, the MCC team came to us with a clear challenge – to create a new virtual hub dedicated to housing and delivering all of the festival's content and resources.
For a range of reasons (largely timing), creating a brand new [showcase] site was out of the question. So we worked closely with the team at MCC to understand exactly what content they wanted to deliver and how, to make sure we could find the best solution possible.
The key priorities for MCC were:
To direct people to a paywalled place where all of the festival content could live
To share supplementary resources and social media videos
To ensure consistency with the MCC's branding so that attendees instantly knew the festival was a core part of the Theater's programme
These conversations quickly led us to the ideal solution – to reskin their existing [showcase] platform with the dedicated festival branding and content. Essentially, a full takeover of MCC Theater On Demand.
Because the existing [showcase] site had been inactive over the summer period (as no shows were running), and the content that subscribers had previously been able to access had since expired, it made perfect sense to make use of the platform for this specific event.
The flexible nature of [showcase] meant we were quickly able to make the necessary changes:
MCC has a sub-brand for their MCC Theater On Demand site. For the festival, we temporarily updated this with the FreshPlay festival artwork to create a space that felt purpose-built for the event.
With [showcase], the look and feel of the product can be configured to mirror the main marketing site, or it can be branded to position the site as a completely independent digital space. So harnessing [showcase]'s ability to customise the platform, we adapted MCC's [showcase] to create a seamless journey between the main marketing site and [showcase].
Since MCC went live in October 2020, we've introduced new variable pricing functionality and developed our integration with Spektrix to give users even more control over who has access to what content.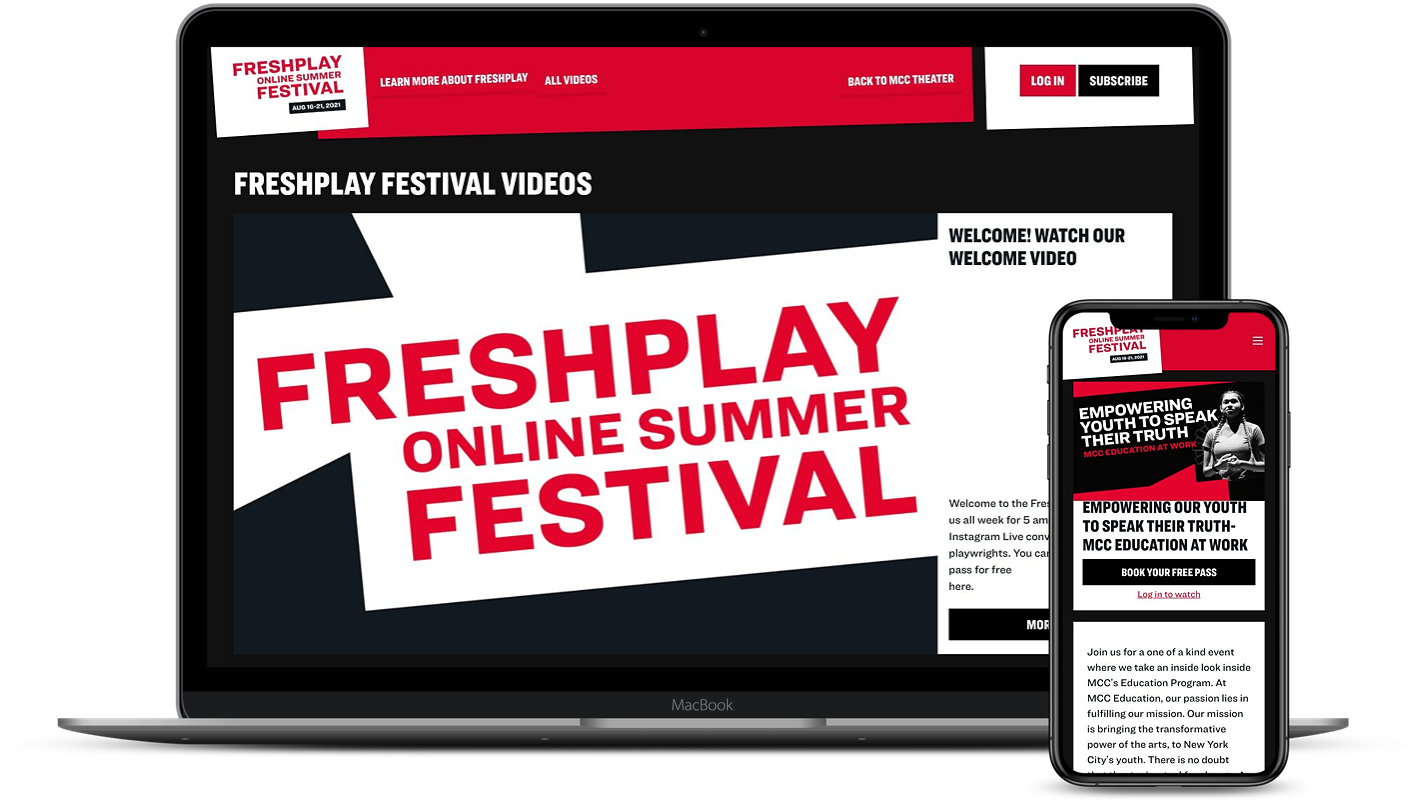 What did all of this mean for MCC and the festival?
Because attendees had to register for the event, MCC were able to control access to the content.
MCC could promote a variety of content and limit how users could access the individual plays – whether that be for free, for free with registration (enabling them to collect additional customer data), or with a requirement to purchase the content.
[showcase] integrates with Spektrix, enabling customers to log in using their existing credentials to access restricted content. Where customers hadn't already registered to book tickets with MCC, [showcase] created an account for them in Spektrix, keeping all of their data safely in one place.
A fully branded takeover of the site ensured familiarity for audiences with the wider MCC brand.
MCC were able to use their [showcase] site as a hub for content hosted directly on the platform, as well as to push attendees to other content platforms, e.g. live content hosted on their social channels.
FreshPlay festival was a brilliant success, with 420 people registering for a Festival Pass and enjoying the five new plays, in addition to exploring the supplementary content available, which included Instagram interviews with the playwrights.
"Having the ability to host an online theater festival met our artistic, community and institutional needs that this moment called for. My favorite features were that we were able to link to our live Instagram events as well as have a limited engagement option for each play, highlighting which days in the festival they were available".  
– Tricia Patrick, Director of Public Engagement and Education
This was a really nice project for us to work on, having created one version of the [showcase] platform for MCC over a year ago, and then being able to make it look completely different to serve a very specific purpose (which can then easily be reverted back to its original form – or indeed another form entirely!)
We're really pleased that the adaptable nature of the platform, from both a branding and content access point of view, meant that MCC were able to deliver the audience experience they had imagined – once again not letting COVID get in the way of their plans!
So if you'd like to hear more about [showcase], discuss your live-streaming or content monetisation plans, or just fancy a chat, please do get in touch: team@substrakt.com