Digital Works #2: Data, Analytics, Strategy (and group therapy)
May 16, 2017
Digital Works is our programme of events which brings people from across the arts, cultural, heritage and creative sectors to share best practice around digital. We hear stories of success, lessons learned from failure and discuss and debate new and emerging techniques, services and products.
Digital Works was born from of my observation that the best conversations at conferences come, often, not from the speakers themselves, but triggered by questions asked to speakers or between the delegates during the coffee break or in the pub. There was also a frustration that digital folk in the arts, who are all-too-often lumbered with a head-spinning array of things they're expected to be experts in, are rarely given the opportunity to come together and discuss things.
Sun's out in Chelsea for #digitalworks02, substrakt's cultural focused event. Strong lineup too… https://t.co/CecYfYoybo

— Andy Hartwell (@andyhartwell) May 10, 2017
Digital Works #2 took place on 10th of May at Cadogan Hall, focusing on data & analytics and strategy. You can read about Digital Works #1 which we held in January at Hackney Empire here.
Rather than aiming to produce a minute-by-minute account of the day I thought it may be more useful to summarise the main discussion points and takeaways.
Data & Analytics
ENO's Aoife Breen opened proceedings with some gusto (Aoife is ace, we love Aoife), looking at how organisations can identify *actual* user needs. ENO have recently 'killed' their homepage and visitors to eno.org will now be presented with what used to be the what's on as the first page in their journey. ENO arrived at this decision after analysing data from Google Analytics, session recordings gathered through Hotjar and anecdotal data from customers. The vast majority of traffic hitting the homepage was heading straight to the what's on so removing an unnecessary step from that journey was an obvious decision to make.
What do your users use your website for and how? Data tells you what they do, not what you want them to do #DigitalWorks02

— ICO (@ICOtweets) May 10, 2017
It is a bold decision (although one that every metric they had access to was screaming at them to make) and one that would perhaps be impossible at some organisations where the homepage is seen as a 'shop window' (and often a political football). Aoife said the 'data-friendly' environment at ENO meant that there was little or no opposition to the move. Aoife will be writing a separate guest post for us about this project. You can download Aoife's slides here.
The ultimate digital provocation: remove the homepage! (& replace with What's On). Radical – or practical..? #DigitalWorks02

— Sebastian Cater (@sebastian_cater) May 10, 2017
ENO have made fairly extensive use of Hotjar, which is a product we really like. However there are lots of other similar products which are worth exploring, and lots of other ways of capturing user feedback – which we discussed a bit in this post.
One Further's Chris Unitt tackled the subject of Google Analytics. A common problem Chris hears about from clients is that lots of people simply hate using GA as a product, it's overwhelming and annoying to use. Chris shared a number of examples of how you can utilise the data within GA to drive various areas of your organisation's activity without ever actually having to log in to the application (hurray!). These ranged from the relatively simple use of Custom Alerts to flag when things suddenly change to the more technically demanding use of GA data to drive marketing automation and improve the user experience, for example by speeding things up by pre-fetching pages.
The group discussions revealed a fairly even split in the room, between organisations where the value of data was understood and utilised, and organisations where data was mistrusted and ignored. We heard some examples of organisations where the purpose of the website has never really been properly discussed or defined so it's difficult to work out which metrics carry weight (because no-one can agree on what 'success' looks like).
It was also encouraging to hear stories about organisations who have been on a journey from total mistrust (and ignorance) of the data around the business to one where it really does inform planning and decision-making. Often these journeys had required a real investment from the 'data cheerleader' with people giving examples of corralling a huge variety of 'types' of feedback from hard numbers through to graphs, infographics, social media comments, social media metrics and more until they managed to identify a way of communicating what was going on in a way that resonated with colleagues in their organisation. There was the sense that colleagues are almost always interested in the stories your data can tell, you just need to work out which stories they're interested in and a way of communicating that'll be meaningful for them.
There was also some discussion about what the 'threshold' was for data to carry weight i.e. if you're using data to inform decisions, how much data do you have to collect before you feel you've got enough to base a decision on? It was interesting to hear about examples of decision-making processes that had become bogged down in requiring voluminous amounts, and types, of data to be collected before anything could be done. There was the feeling that small experiments were probably a smarter way to introduce this sort of thinking to your organisation that going from nothing to hoping that the numbers will inform and drive business-critical decisions from day 1.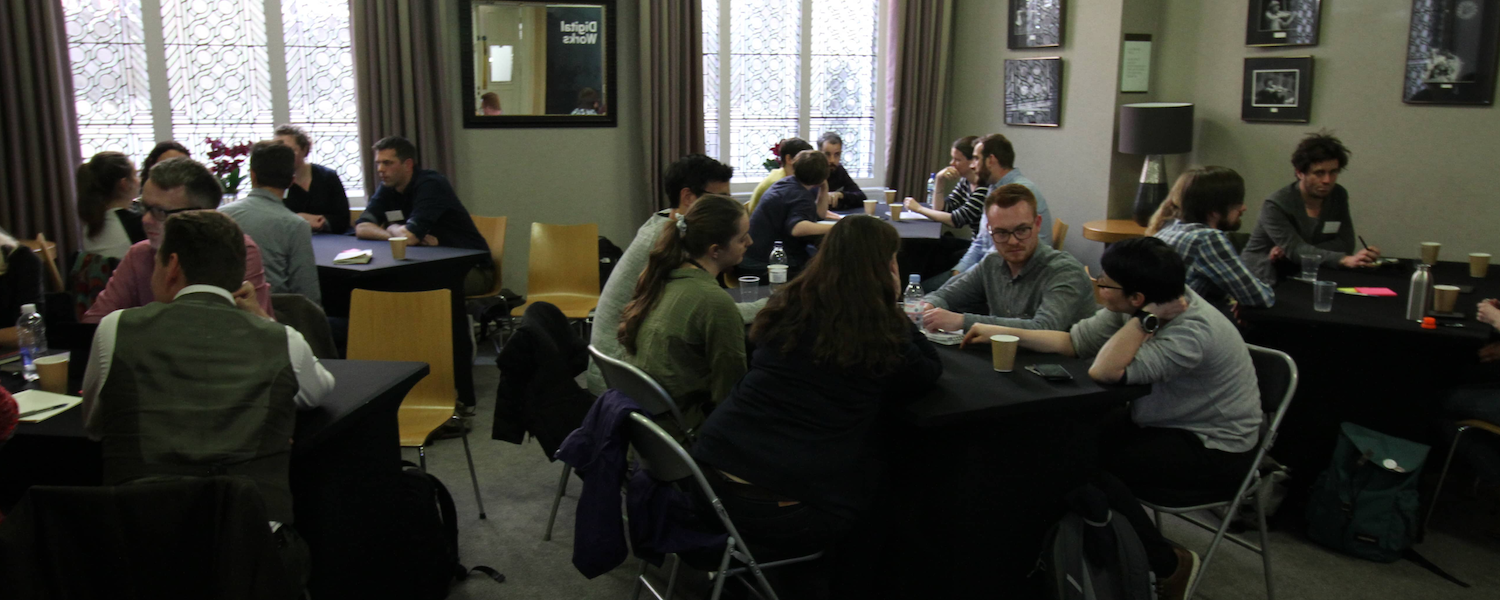 As funding becomes ever-tighter and organisations need to bring in more earned revenue from a greater diversity of sources it seems imperative that more organisations a) understand what data they have at their disposal and b) understand how that data can be used in a meaningful way. If you can't understand what's working, and what's not working, then how can you make informed decisions. There are still too many stories of activity being undertaken because 'it's what we've always done' or simply because someone 'thinks' it 'might' be a good idea.
Strategy
The Audience Agency's Katie Moffat shared her observations on 'why digital strategies fail'. Reasons ranging from a lack of understanding about what a strategy actually is, to planning being based on an incorrect (or total lack of) understanding about an organisation's strengths, weaknesses and aims. You can download Katie's slides here.
Royal Opera House CTO Joe McFadden then shared how the ROH have a flexible ambitious approach to strategy around digital, this has involved a move towards a more product-focused way of delivering their digital activity. Alongside this shift Joe explained how they use mapping techniques to engage non-digital colleagues from across the organisation in identifying issues and priorities. You can download Joe's slides here.
Broadly the feeling was that the days of very long strategy documents are behind us ("I have one from 2014, it makes a very nice doorstop" was one remark). These documents are the relic of an era where digital was seen as a discrete and separate thing and more-often-than-not these documents quickly dated and weren't really read by anyone other than the person who wrote them. However it was agreed that some sort of articulated, shared and agreed vision for digital was essential, people explained how it often provided the foundation for buy-in from boards, go-ahead for large projects and general engagement amongst colleagues.
We are all looking forward to the day when digital activity is embedded in every part of an organisation but there was the frank admission that, for most organisations, that day is still a long way off. However having a set of digital ambitions and principles was agreed as essential for enabling organisations to understand the part digital plays in the business and for people to understand how digital fits in with what they do.
I said exactly this at my @substrakt talk last week. In an ideal world we wouldn't need them but we do for now https://t.co/FLlEWAjNZb

— katie (@katiemoffat) May 15, 2017
The mapping techniques that Joe shared were seen as an interesting and effective way of explaining to people the breadth and scale of what digital 'stuff' involves and also for quickly identifying how and what that activity would involve (and whether it would be worth pursuing).
Conclusions?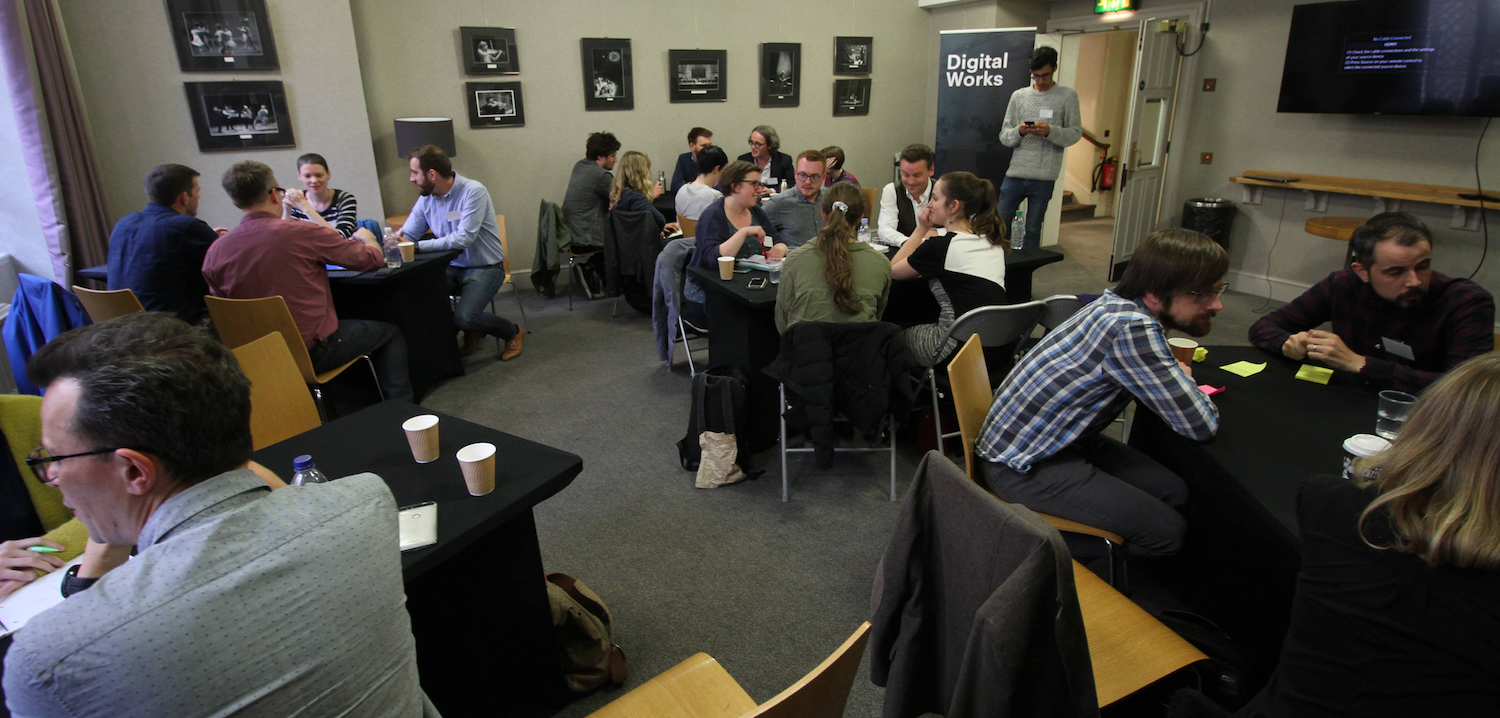 Great PM at #DigitalWorks02 – invigorating chat, ideas & general group therapy with a lovely bunch. Thanks to the good folk at @substrakt 😊

— Nicky Hand (@nickyhandUK) May 10, 2017
Everyone said that they didn't have as much time as they would like for this sort of thinking (some people didn't have any time at all) but the benefits were so clear that there was a feeling everyone would try to make time. The new requirements from the Arts Council for organisations to have a Digital Plan was felt as a useful way to justify spending more time having these kind of thoughts.
Today I learnt I have zero time to think about the bigger picture but I should invent time cus there is interesting stuff to do @substrakt

— Rebekah Ellerby (@rebekahellerby) May 10, 2017
We will hold Digital Works #3 in September, if you are interested in attending, speaking or hosting the event then get in touch: team@substrakt.com