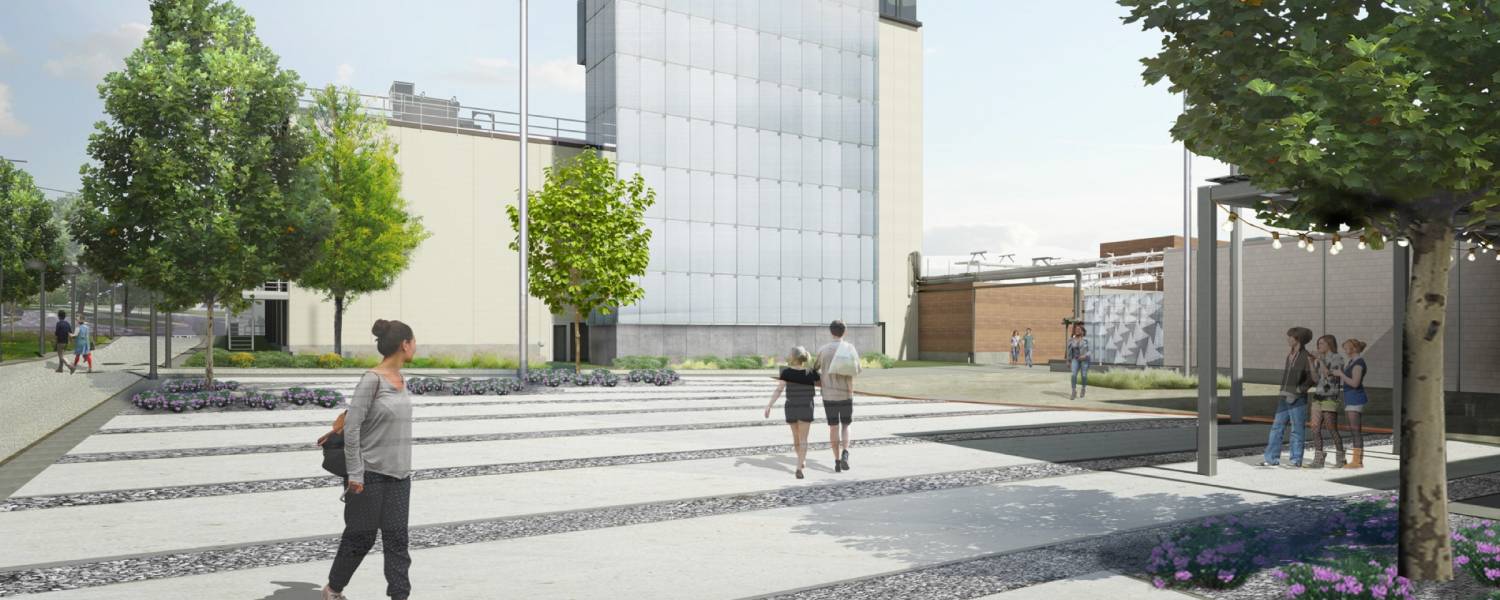 Digital Membership Cards in TNEW
Earlier this year we started working with  The Momentary, a multi-disciplinary space for visual and performing arts, culinary experiences, festivals, and artists-in-residence.
The Momentary will open in Bentonville, Arkansas, on February 22, 2020 and will be a satellite of  Crystal Bridges Museum of American Art.
The Momentary and Crystal Bridges use  Tessitura to manage their Ticketing, Membership and CRM needs and Tessitura Network Express Web (TNEW) for online purchases, registration and account management.
TNEW
TNEW is set up as a subdomain of a primary website (e.g. tickets.yourwebsite.com). When implementing TNEW, the intention is to create a seamless experience for navigating between the primary domain, then linking through to book tickets on the TNEW subdomain.
This is achieved by building a template page containing the page header, footer, images, CSS and JavaScript files. TNEW is dynamically inserted within this template when loading a TNEW site.
Typically we would always recommend utilising core features and functionality available from a system such as TNEW and enrich these offerings by designing a beautiful and consistent user experience throughout the user journey between the marketing site and the purchase path.
Tessitura describes this as a "hybrid approach", whereby both the Tessitura REST API and TNEW have been used in conjunction with a CMS site. You can read more about  how we integrate with Tessitura in this journal entry from Ash.
Digital by default
As part of their sustainability efforts, The Momentary were keen to offer Digital Membership cards in place of single use physical plastic membership cards.
Whilst this is functionality that is due to exist in a future release of Tessitura and TNEW, it is not currently supported out of the box. This feature, however, is going to be needed from day one of the Momentary opening.
These digital cards need to offer both a representation of a membership card as well a means for access control, displaying QR codes that would work with N-SCAN. This provides a quick and manageable way to track member attendance as well as verifying membership information and benefits.
The benefits of a hybrid approach
The TNEW hybrid approach often involves querying Tessitura's REST API to import production details to a CMS site. It also enables functionality such as displaying number of items in the basket or recognising logged-in users by name while they are browsing the CMS site. However, to display membership cards within TNEW, this required making calls to the REST API to ascertain whether the logged-in user had an active membership level.
The TNEW template allows the association of JavaScript files. This meant that we were able to make API requests from within the hosted template using AJAX, create and append new page elements using JavaScript and style the content to represent physical membership cards within the Account Management page within TNEW.
In the screenshot below you can see the digital membership card(s) appears towards the bottom of the account management page.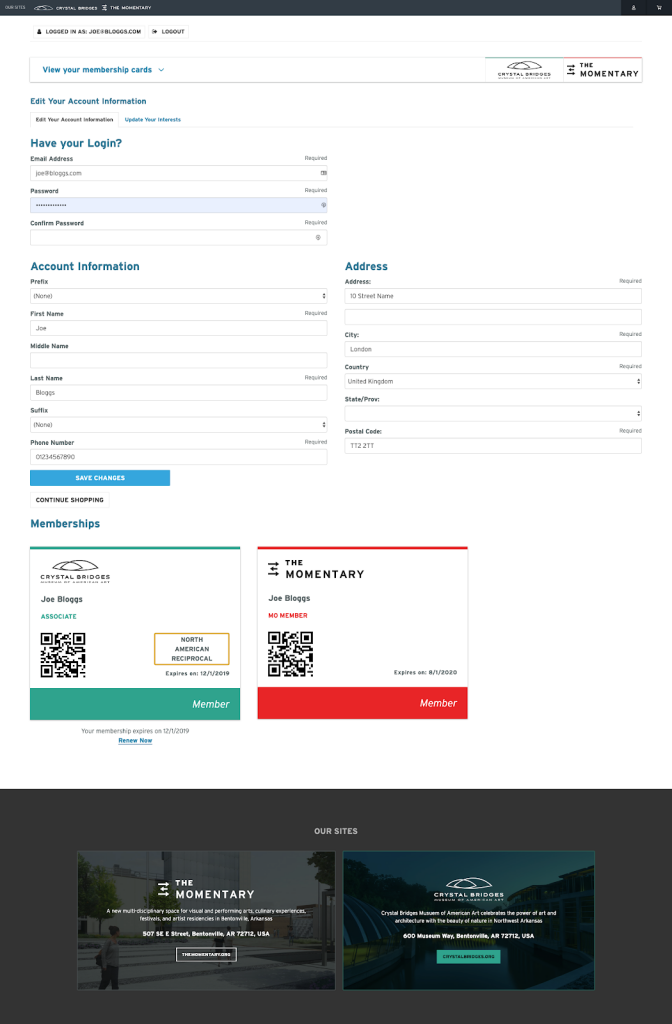 QR codes
With the membership information retrieved and displayed in an attractive way, the next step was to display a QR code in order to allow visitors to be permitted entry through having their digital membership card scanned.
The QR code is generated using a JavaScript library and is formed of the customer number, prefixed with a 'C' and the necessary amount of zeros that make up a 9 digit NSCAN code.
Renewals
Now that the logged-in customer's membership information is pulled through to TNEW, it provided the ability to prompt members to renew their membership. Using the data returned from the API we check whether or not the customer is within their renewal period.
Typically this is set 3 months before the expiry of the membership and is a prime opportunity to provide a quick route to renewing that membership via TNEW while already logged in.
This screenshot shows the renewal call to action below the Crystal Bridges card.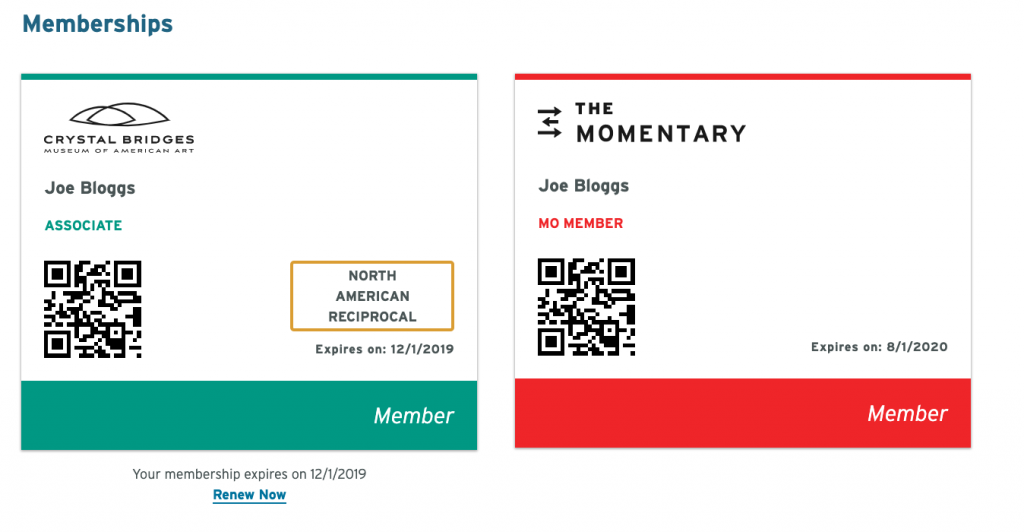 Opportunities
Working with The Momentary on their Digital Membership Cards is just one way in which we have utilised TNEW and the Tessitura API to extend the functionality from its core offering.
We're really pleased with this additional feature and how it will enhance the visitor experience and are excited to explore what else can be achieved with this type of approach.
If you would like to talk to us about your Tessitura web project, get in touch: team@substrakt.com