Developer's Digest: Issue 18
Every few weeks our Technical Director, Stu sends a round-up of developer-focused tips, tricks, and interesting reads. He has now also introduced a title for each section that's a pun on the relevant team member's name….enjoy?

Iansights
An essential reference resource I used when building the user-interface components (particularly the forms) for a recent product was the Gov.uk Design System.
Each of the components are presented with a block of HTML that is built with accessibility in mind, particularly useful when building the more intricate form elements that involve fieldsets.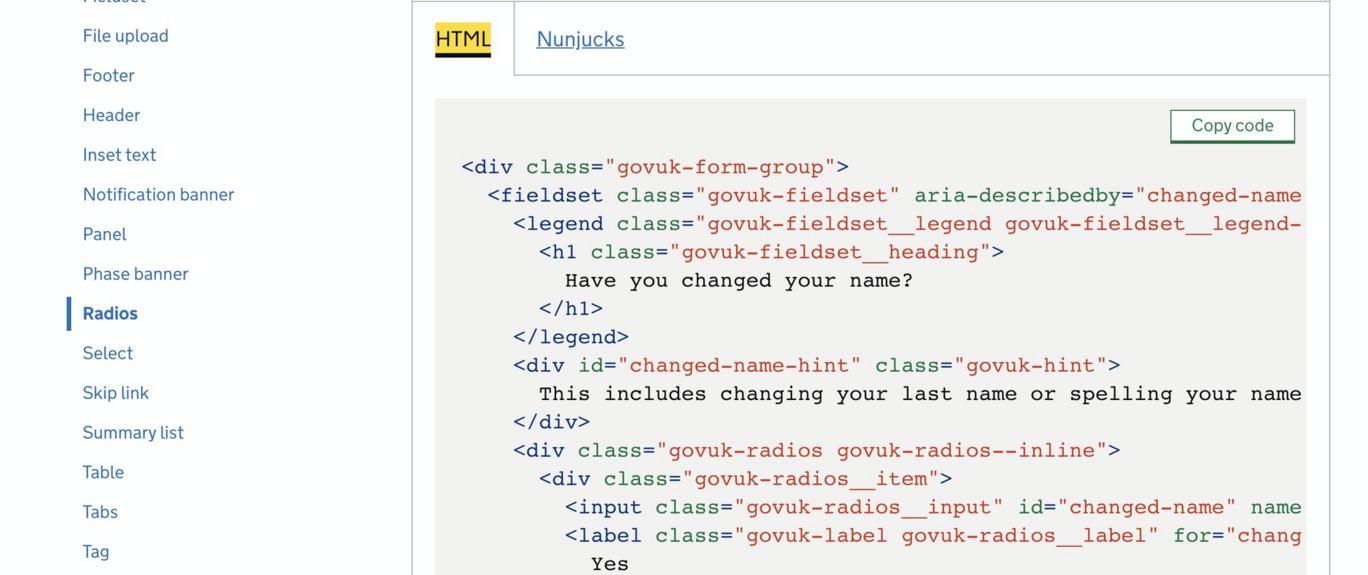 Everyone who is anyone in the world of internet development will have their favourite VSCode plugins, here are a couple of mine:
This handy little plugin, developed by the provocatively named "freakone" adds a vertical ruler to your code window that is dictated by your current cursor position.
If you've ever played with a format that relies on indentation (such as .yml, pictured below) you'll know how tricky it can be making sure everything lines up.
Bonus tip: Disable the plugin when you don't need it to stop it from doing your head in.
This one has helped me a lot with recent product work, especially working with the language files (which were constantly being updated by both Will and I).
Highlight a snippet of code, and the plugin tells you who wrote it (and when) in the bottom toolbar.
Bonus tip: The plugin is called Git Blame, but please don't use it play the blame game, that would be lame.
Paddy's Perls
A very simple, very useful for layouts, as you just set the number of columns and the gutter width and it throws some guides onto the art board.
We've used it many times for carousels etc. but I've never really dug deep into the docs.
Turns out there's loads of responsive support and added features that we were not making use of, meaning you can set many of the layout parameters in the config object rather than trying to fix it with sass.
It's a provocative question, but we should be aware that there is also an environmental debt that comes with adding too bloat or unnecessary decorative images to websites.
Deno's Digestives
The easiest way to get started with PostgreSQL, MySQL, Redis & more
In this article, we will add our own "Did you mean" feature in PHP. For this, we will implement Smith-Waterman Gotoh Algorithm.
Composer has many security precautions in place to prevent several threat models such as supply chain attacks, HTTPS downgrade attacks, and offers features to further tighten security.
Will's Wisdom
With S3 Object Lambda you can add your own code to S3 GET requests to modify and process data as it is returned to an application.
AWS Graviton2-based database instances are now generally available for Amazon Aurora PostgreSQL Compatible Edition and Amazon Aurora MySQL Compatible Edition.
Graviton2 instances provide up to 20% performance improvement and up to 35% price/performance improvement for Aurora depending on database size.
The forceFeed.js script is designed to help you test your design's tolerance for variable, dynamic content.
A tiny script that "force feeds" HTML elements with random text content within specified parameters. Set up, keep refreshing your browser until something breaks, then fix the design.
My favourite VSCode plugins:
Accessibility & Language
AWS
Misc
Jim's Gems
Due to a current bug in Chrome, we recommend using <div role="dialog"> (or <div role="alertdialog"> to make it behave like a modal) rather than leveraging the native <dialog> element.
The bug: when clicking outside the <dialog> in Chrome, it does not close as expected.
Found on the internet
A WordPress drag 'n' drop page builder with some nice features.
Torque is a news site featuring all things WordPress. "We are dedicated to informing new and advanced WordPress professionals about the industry."
This repository contains JavaScript based examples of many popular algorithms and data structures.
A curated list of amazingly awesome PHP libraries, resources and shiny things.
This presentation was recorded at GOTOpia November 2020
Cartoon