Adopting a user-centred, data-driven approach to digital. Part 2: what makes a good digital experience?
In this series of articles our Strategic Director, Ash outlines why digital experiences are important, what makes a good digital experience and how you can make your organisation more user-centric.
Read Part 1 "why does it matter?" here.
What is a good digital experience?
It's easy to get caught up in innovating for the sake of it, or pouring funds into chasing the latest technology.
However that time, money and effort is probably far better spent looking to improve the existing digital experience rather than endlessly expanding the scope of your digital platforms.
After all, in doing so you're probably just inventing new ways to frustrate people whilst leaving the old ways you already frustrate them completely untouched.
I'd argue that your resources are better targeted trying to achieve four goals with all of your existing digital experiences: Make them Consistent, (seemingly) Fast, Frictionless and Intuitive…oh and that your digital experiences should always be solving an actual user need.
Consistent:
"Seventy-five percent of consumers expect consistent experiences across multiple channels (web, mobile, in-person, social), with 73% likely to switch brands if they don't get it. Customer loyalty — and attrition — is determined by every experience."
How Your Customers' Expectations Have Changed in the Age of the Customer, Salesforce
Consistency means your tone of voice and language but also visual consistency around branding and layout.
If your mobile experience looks totally different to your desktop experience which looks totally different to your emails, which looks totally different to your offline materials then that is a jarring experience for the user as they're constantly having to reset their expectations and understanding about their interactions with you depending on which channel or platform they're engaging with you on.
What is even more jarring is if there are radical shifts in look and feel within any one of those experiences. The user may, justifiably be passed between a number of different systems in a single user journey, if the look, feel and language lurches around wildly depending on which 'part' of the journey they're in then that is an unpleasant and ineffective experience for them, as far as they're concerned that single user journey should feel just like that.
Consistency is important in every area of the customer experience, whether that's around messaging, customer service information or being able to provide the same level of service regardless of how the customer is contacting you. 
Example: The Hepworth Wakfield
The Hepworth Wakefield's consistent use of branding and messaging across channels (website, shop, in-venue) to promote their membership scheme. This may seem obvious but it's surprising how often this idea of consistent comms is ignored.


Screenshot of https://hepworthwakefield.org/membership/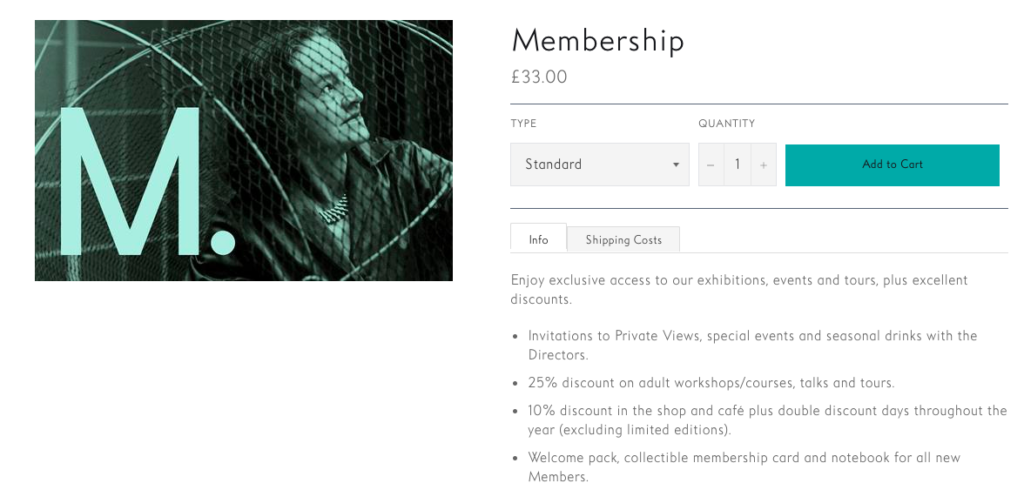 Screenshot of https://shop.hepworthwakefield.org/products/membership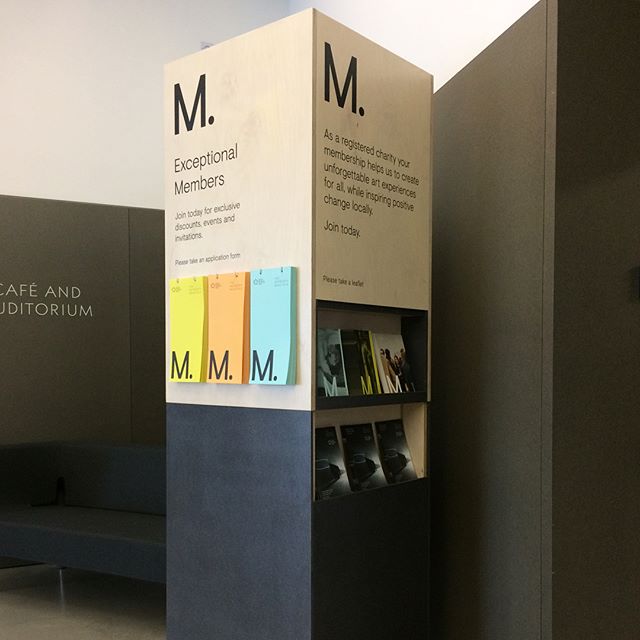 In-venue membership stand
Further reading:
"What a Great Digital Customer Experience Actually Looks Like", Harvard Business Review
"Delivering consistent content experiences across all digital touchpoints", The Content Wrangler
"In Customer Experience, Consistency is the New Delight", Gartner
Seemingly fast:
"53% of mobile site visits are abandoned if pages take longer than 3 seconds to load." The need for mobile speed: How mobile latency impacts publisher revenue, Doubleclick
I've said "seemingly' fast because whilst speed is important (like, really, really important), it's also really, really difficult to achieve significant gains beyond a certain point. Even moreso when a significant part of your user journey may reside within a 3rd party product (e.g. a ticketing web product) over which you have limited technical control.
Which is why you're better off focusing instead on 'perceived performance' which will allow you to achieve far more significant improvements in the user experience rather than slogging your guts out to achieve a shift just in quantitative measures.
Perceived performance is the idea that, by utilising smart feedback mechanisms around design, layout and content you can ensure the user feels like the experience is fast and responsive without necessarily actually achieving a huge level of actual improvement in speed. 
That's not to say you should ignore trying to make actual, measurable improvements in performance. Afterall, nice feedback mechanisms will only placate a waiting user for so long.
Examples: 
TicketClever have clear visual feedback and messaging letting the user know why they are waiting.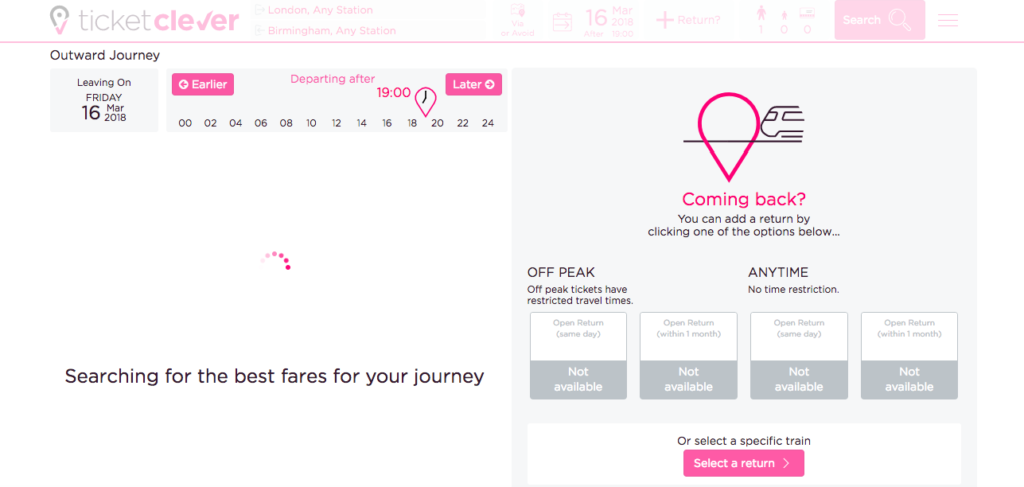 Medium progressively load any visual assets (i.e. load in a lightweight 'blurry' image before following up with the full resolution version) so that their pages load very quickly and users can do what they're on the site for which is, mostly, reading content without having to wait for every image to load in before being able to engage with the content on the page.
The Perot Museum's smart plan your day 'package builder' functionality has a bit of an unavoidable technical delay whilst the various API calls are made to Tessitura to build the package and put in the basket. A nice, fun, on-brand loading spinner shows the user that something is happening, plus it's nice to look at.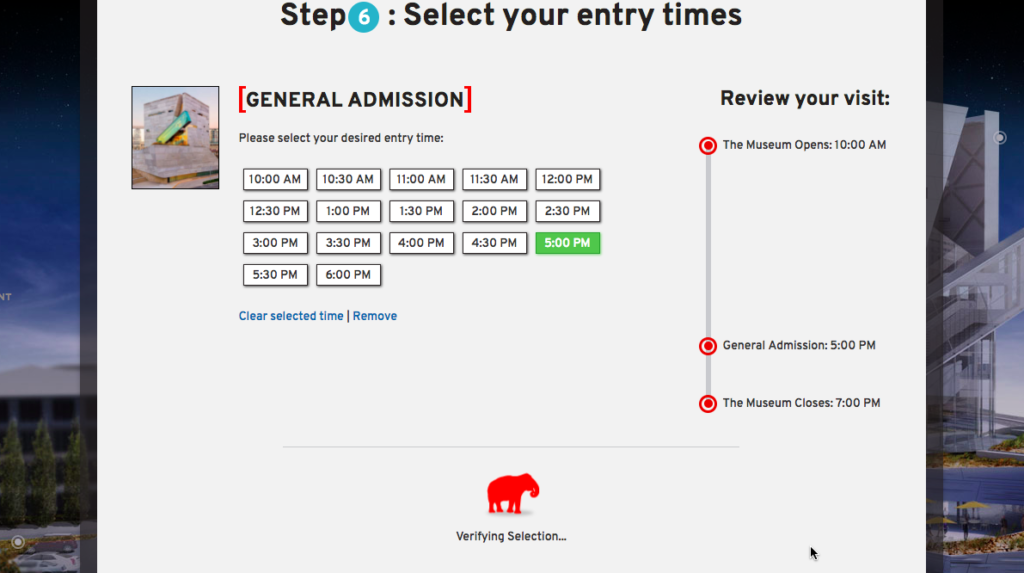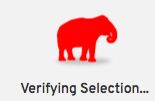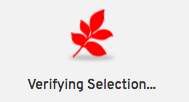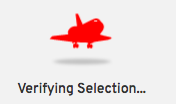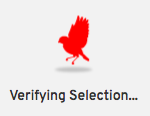 Further reading: 
"How Loading Time Affects Your Bottom Line", Kissmetrics
"A Designer's Guide to Fast Websites and Perceived Performance", Sitepoint
"Perceived Performance – Don't Forget the User", KeyCDN
Frictionless:
People online are incredibly impatient, the smallest thing or distraction can result in them leaving your site. Simple things like not having the option for guest checkout can hit conversion rates by up to 25%. That is why you need to focus and focus hard on removing all the barriers that you can. Don't make the user do any more than they absolutely have to. 
Do you allow the user to complete their journey on their terms or are you forcing them through a particular, friction-heavy, set of hoops (because of apparent technical restrictions, internal processes or whatever), e.g. can a user start their experience on one device and pick it up to complete it on another?
Digital experiences often end up cluttered with additional steps, additional messaging and additional calls to action that only relate tenuously to anything approaching an actual user need. In doing so you are likely to be negatively impacting the primarily goal of the user journey in question.
Example: The Bridge Theatre
From the outset The Bridge wanted to make it as easy to buy a ticket as possible without any extraneous messaging or distractions. Alongside the clean, elegant design we have integrated with their ticketing platform's API to surface key pieces of information to the user at important 'branch' points in the user journey. The aim being that the user is always informed enough so that they are only ever moving forward through the purchase pathway.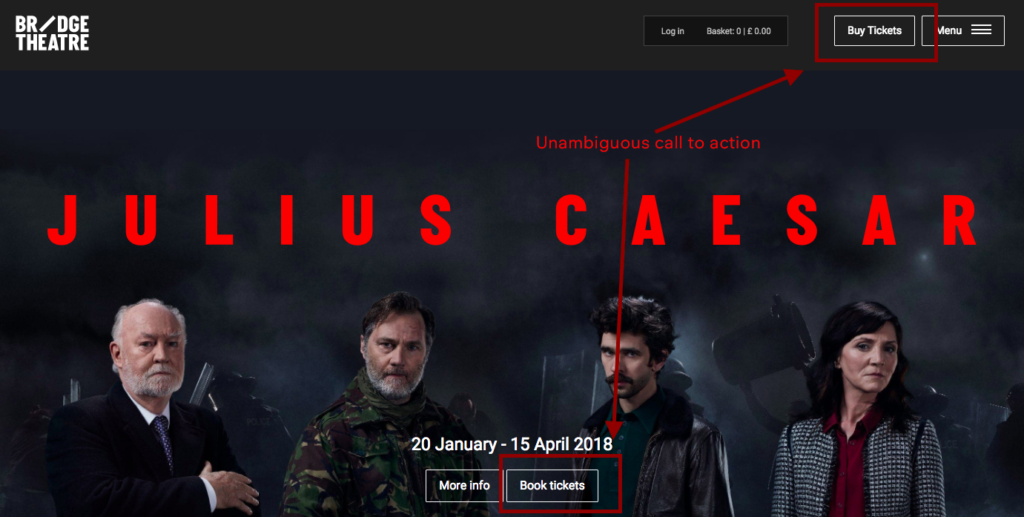 Screenshot of https://bridgetheatre.co.uk/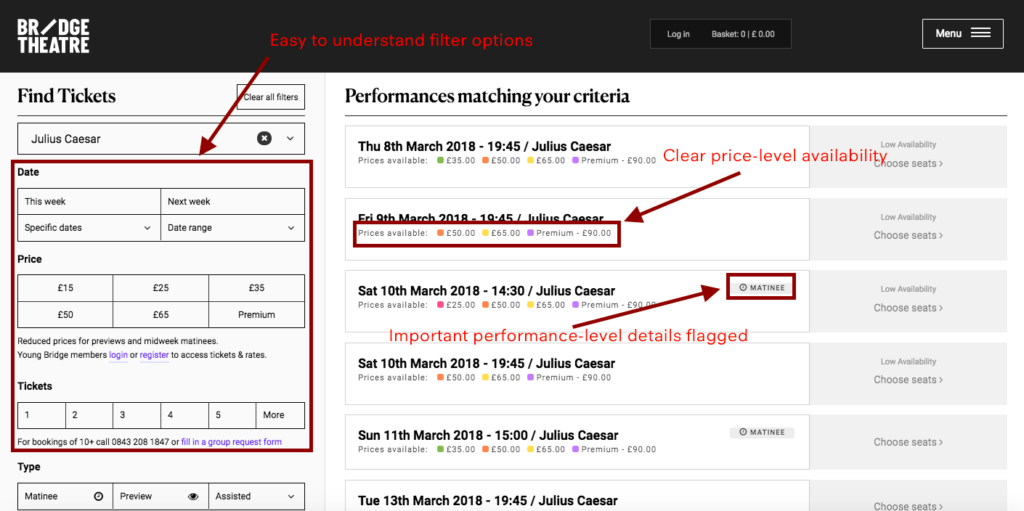 Screenshot of https://bridgetheatre.co.uk/performances/?event=440
Example: Spektrix checkout
Spektrix recently announced a significant reworking of their checkout flow (which you can read about in more detail here). By altering the order in which the user was asked to complete each step of the process and submit data they have removed barriers and are making more efficient use of data the user is already submitting without turning system requirements into user issues.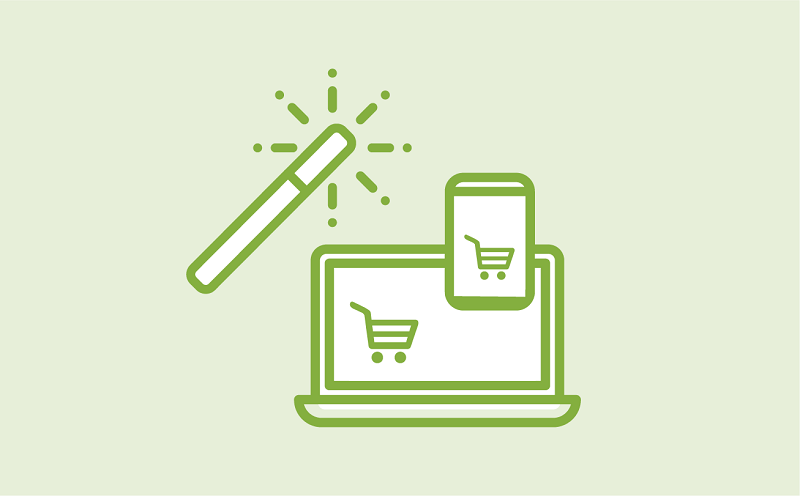 Further reading: 
Strategic UX: The Art of Reducing Friction", Digital Telepathy"
"The 10 principles for creating amazing online retail experiences", eConsultancy
"Checkout best practice 101: enclosing the checkout process", ClickZ
Intuitive: 
A nice, vague, nebulous catchall to end with, but what I really mean is for the user experience to make sense.
Allow the customer to do the things they want to do in the way they want to do them. Don't make them go hunting in weird places for important information, understand how they want to engage with your organisation and the experiences you're delivering and facilitate that.
If lots of your customers want mobile ticketing and to communicate with you about customer service issues via social media, then telling them that 'an improved mobile experience is coming next year' isn't really going to be good enough. 
Example: Birmingham Hippodrome
All our user research shows that lots of theatre bookers want to see: images of the auditorium, seating plans and, in particular, views of the stage from different seats. Increasingly this is functionality that is presented as part of the purchase pathway however users also want to access this information before they've made a decision before they've even made a decision to book a ticket (which is born out through data, search terms and sites such as https://aviewfrommyseat.co.uk, https://seatplan.com and http://www.theatremonkey.com/seatingplanindex.htm).
Birmingham Hippodrome have created a specific page that showcases this content outside the purchase pathway. Not only does this solve a proven user need in a straightforward way it also ticks a number of SEO boxes along the way (making this page ranks higher than the equivalent content on any of the sites we've highlighted above). This is a simple but effective way of showcasing this content.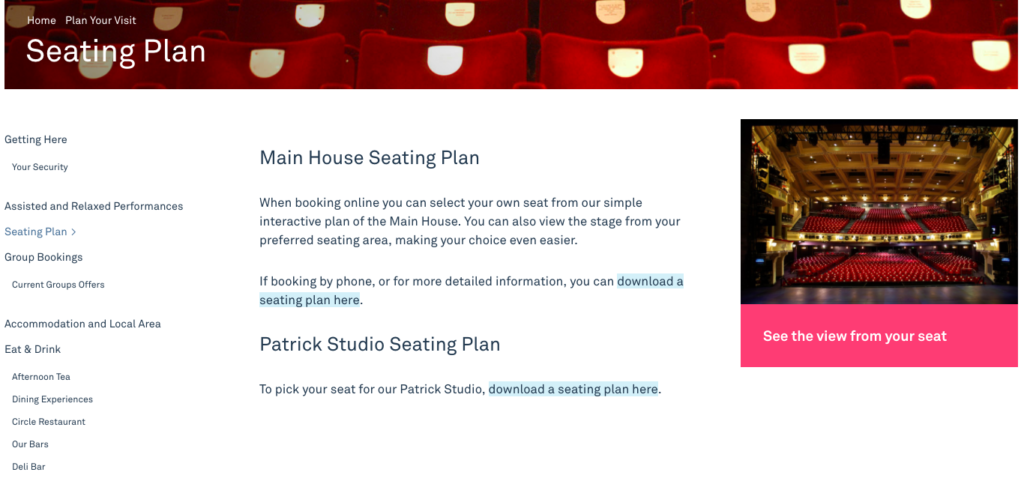 Screenshot from https://www.birminghamhippodrome.com/plan-your-visit/seating-plan/
Example: Royal Albert Hall
The Royal Albert Hall now use social media channels to engage with customer service queries.
At Digital Works #4 Matt Griffin, Digital Manager at the Royal Albert Hall, outlined how they had made this shift in empowering internal departments to be able to respond to customers in this way.
This allows customers to be dealt with on the channel they have told the organisation (through the way they've chosen to get in touch) that they want to be communicated with on.
You can read about Digital Works #4 here.
Example: Bulb Energy
When we were discussing this post in the office, Emily (Head of Client Services) shared her experience switching energy suppliers to Bulb:
"From the moment I landed on the site it was clear and simple, the language and tone is consistent. It seemed really easy to switch to them and it was. They have a chat window which is always manned (by helpful humans with a sense of humour – I only had to use this once to ask if EDF were telling me lies, because everything on the Bulb side is so simple).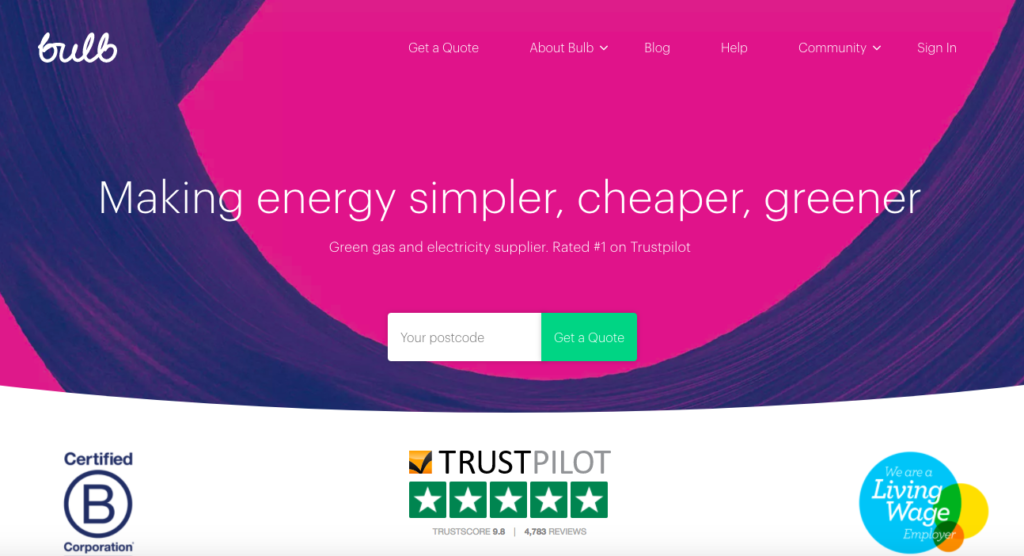 Clear, colourful UI

Makes it really clear what the experience involve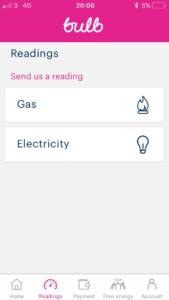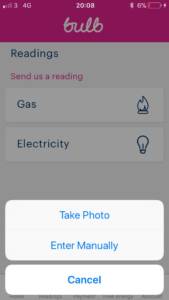 "Now that I am a customer, I use their App which reminds me to take meter readings and I can do it just by taking a photo of my reader. The whole things is so simple and clear and friendly and easy to use. It's about 100 years away from the same experience at EDF"
Example: Suunto Movescount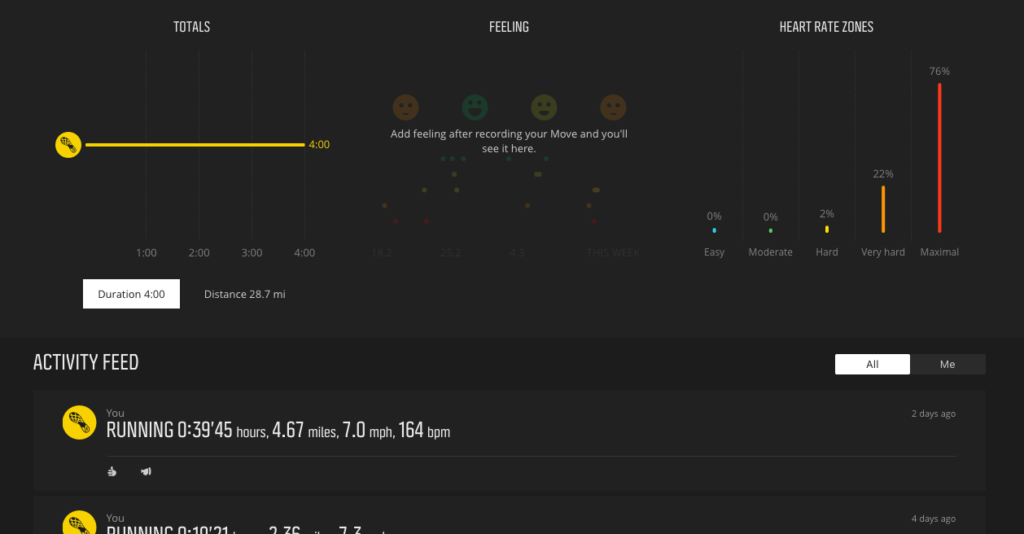 Whenever I go running I record what I've been up to on my watch, when I get home my watch automatically pairs (via Bluetooth) with the Movescount app on my phone or my laptop (whichever I'm closer to at the time) and uploads my activity data to the Movescount website, this is also linked to the Strava website so the activity ends up there too.
All without me having to do anything and by the time I've finished unlacing my trainers I can look at my activity data (either in the app or on the website), share it, compare that day's run to previous runs, or whatever. Without having to faff around with cables, or manually moving/converting files.
Further reading:
"Intuitive Web Design: How to Make Your Website Intuitive to Use", Conversion XL
Enjoyable
I've not mentioned anything here about 'joy', and whilst I think they best digital experiences are actually enjoyable I'm fairly convinced that in many, if not most, scenarios looking to excel in the areas I've outlined above will result in enjoyable digital experience.
I've not really looked too much at content here, or extending the cultural experience into a digital space and that's primarily because I think the vast majority of cultural organisations are still at a point where their digital experiences are focused on all the parts of the visitor/audience experience that lead up to, or follow after the 'core' cultural experience. I believe those parts of the experience are key, and the areas I've outlined above are essential to delivering that well. In these scenarios the website is a tool, it is a means to an end.
Whilst all of the above areas are still essential when thinking about delivering 'digital cultural experiences' (no-one wants to be immersed in a baffling, slow-loading, labyrinthine experience regardless of what they're doing)
Being user-centred
However, if you were to do one thing to try to start fixing the customer experience, what would that be? Simple, put the user back at the centre of everything you do.
Although I understand that life isn't as simple as that and driving organisational change is challenging and inherently difficult. Being user-centred is a challenge, it will force you to rethink the way you go about delivering your work.
In the next article in this series I will explore some of the approaches and techniques you might consider to achieve this.
Featured image: Photo by Emily Morter