A quick guide to social media for the arts
Social media accounts are a standard part of digital communications, but in the history of the internet, they're still relatively new. Facebook launched in 2004, Twitter in 2006, Instagram in 2010, and TikTok, a relative baby, has been around for only five years.
Arts and cultural organisations have been using the platforms in a variety of interesting ways to engage with their audiences. Indeed, social media operates within its own unique context which gives organisations the opportunity to get involved in conversations directly with audiences and within the sector, talk about their vision and values, and share their work, brand and offering in a less promotional forum.
Here, we wanted to share some examples of posts from arts and cultural organisations that we think are using the platform well (based on publicly available success metrics around reach and engagement). Hopefully this can give you some ideas on how to increase engagement with your content and ultimately, connect with your audiences.
Here's how we'll break it down:
How social media algorithms work to determine who sees your content
Key content 'rules' for an effective social media post
What this looks like in practice - examples from arts & cultural organisations using:

Twitter
Instagram
Facebook
TikTok
Social media algorithms
Although social media is considered 'owned' media, unlike a website, you don't have the same levels of control about what users see, as this is governed by each platform's algorithms. So although running social media accounts may seem simple to the uninitiated, every marketer knows how difficult it can be to make them a success (by success we mean achieving reach, engagement, and conversion).
The algorithms are constantly working to show users posts that they assess will be of interest to them. They do this by considering the 'signals' inherent in each post - for example, the type of content posted, how frequently a user has previously interacted with the person or page that posted it, and overall engagement with the post from other users (read more about how algorithms are used in Facebook, Instagram and TikTok).
In a nutshell, every time you post content, it goes into a giant bucket of posts from which some are selected to be shown to a portion of your followers (TikTok works slightly differently since its 'for you' tab is where most people hang out, rather than the 'following' tab, but it still uses an algorithm). All of this means that to run an effective Facebook page or Instagram, Twitter or Tiktok account, you need to make sure you're creating and sharing content that is genuinely relevant and of interest to your followers.
Key social content rules
Broadly speaking, effective social media posts do at least one of the following things:
Make us feel something (have an emotional response)
Make us laugh (as you'll see below, humour is one of the most commonly used tactics)
Provide new information or a new perspective on something
Resonate with how we see ourselves or with a community we are part of
Tap into the zeitgeist in an original way (lots of meme content does this)
Are objectively visually eye-catching or stimulating
Of course we must caveat that celebrities posting on social media are operating under different rules, which are essentially dictated by popularity. But for us non-celebrity folks, our social media posts need to achieve at least one of the above things.
A second caveat is that nowadays, most organisations will need to supplement their organic social media activity with at least some paid targeted advertising, particularly if you're trying to sell tickets or do anything specifically sales orientated (as unless the show/performance/exhibition in question is already extremely popular, your post is unlikely to get high organic reach).
What does this look like in practice?
We've selected some examples of posts from arts, cultural and heritage organisations that follow at least one of the above social content 'rules' and as a result, have achieved a good level of reach and engagement (it's worth noting that we're judging success based on publicly available metrics).
All of these examples demonstrate an understanding on the part of the account owners that social media has its own specific context. Unlike on a website, people aren't on social media actively looking for information from your organisation, so your post needs to resonate with them immediately. If it's essentially a press release presented as a post then it's unlikely to cut through.
Twitter
A combination of wry, self-deprecating humour and educational content tends to work well on Twitter, and many arts organisations and museums have been employing it well:
Instagram
Instagram has the feed, stories, reels and IGTV. We'll stick with examples from the feed and stories, given that's what most arts and culture organisations tend to focus on (and they're arguably the easiest to do well).
Instagram is an inherently visual platform, and so the most impactful work on feeds tends to make best use of the opportunity to create visually engaging content. And successful uses of the Stories feature (which invites more ephemeral 'throw-away' content) tend to post 'behind the scenes' or more informal material, which often invites active engagement from users:
Scottish Ballet has a beautifully curated account, where their images have an impact both as individual posts, but also as a set of images that work holistically together in the grid.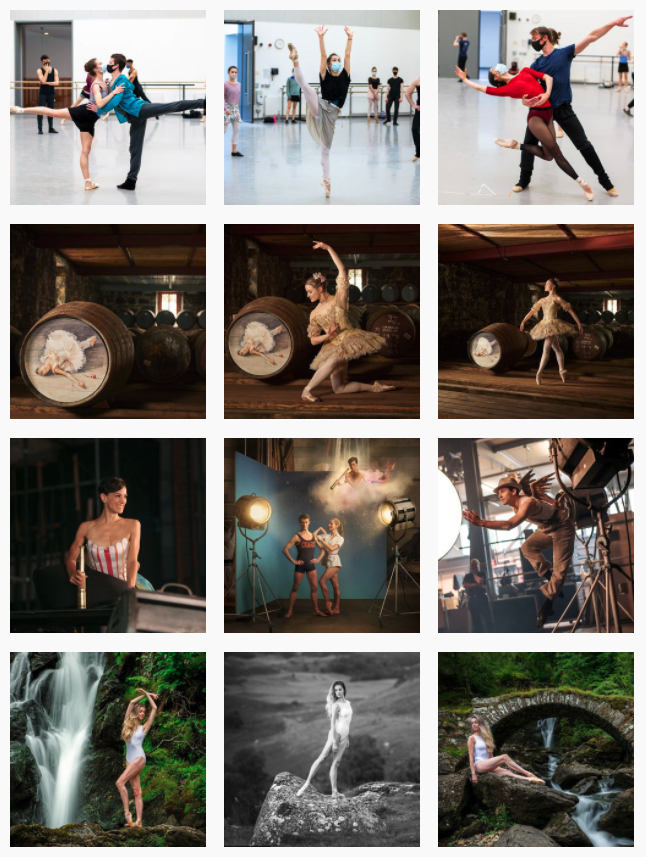 Facebook
Facebook is the oldest social platform used by mainstream users and is, by some margin, the largest social network in the world (number of active users). For many arts organisations it's a hugely important platform, because it's the one most familiar to large segments of their audience. It's perhaps ironic then that it's arguably one of the hardest on which to gain traction (with organic content). Some different ways it's being used:
Historic Royal Palaces often use the 'new information or new perspective' approach, as illustrated in this post about Queen Elizabeth I's birthday. 'On this day in history' type posts are fairly common, but HRP make them more engaging by including less well-known pieces of trivia - in this example, the "muted celebrations" that greeted Elizabeth's birth.
Waddesdon Manor shares a range of different content from its popular Facebook page, but posts that provide little-known facts relating to the history of the place usually get high reach and engagement.
And once again, humour proves successful for the Beamish Museum.
TikTok
Finally let's look at TikTok, which exploded onto the social media scene in 2016 (it's arguably more of a video sharing platform than a social media network but for the purposes of this article we'll include it) and has apparently now overtaken YouTube for average watch time. Amongst arts organisations it's used a lot less than other platforms (largely due to it being yet another content beast for already overstretched marketing teams to feed), but it has the attraction of being incredibly popular amongst a younger audience.
With over 1.3million followers and regularly receiving hundreds of thousands of views per post, Black Country Living Museum has arguably set the standard for how to use TikTok effectively. They totally understand the nuances of the platform and use humour to brilliant effect. And it's clearly working to raise awareness amongst young people and encourage them to visit.
The Tate and Uffizi Gallery are also piggybacking on funny TikTok memes. And from the Carnegie Museum of Natural History, curator Tim Pearce's geeky 'Snail Jokes' are always popular.
We are of course aware that it takes time and resource to plan, research and create great social media content, and for many organisations time and resource is extremely limited. But the fact remains that social media is not a digital channel that works if you approach it in the same way as you would a press release, or even content on your website.
We hope these examples give you some food for thought as to how you might increase engagement with your own social media accounts.
If you'd like to talk about your social content strategy, have any questions, or just fancy a chat, please do get in touch: team@substrakt.co.uk
For some more content tips you can read our guide to improve your web writing. And just let us know if there are any other content things you'd like us to write about, we're always interested to hear new ideas!